Potential serial killer on the prowl near Las Vegas, police warn
A mystery gunman who investigators say is on the track to becoming a serial killer is still on the prowl after killing two men and wounding two others in the past couple weeks in a town north of Las Vegas, police are warning.
Three of the victims were homeless and forensic analysis has shown that the same gun has been used in all four attacks, Las Vegas Metro Police Department Capt. Robert Plummer told reporters Tuesday.
"After killing two people and shooting two others, if he isn't [a serial killer], he's on his way to being one," Plummer said, adding the FBI definition of a serial killer is someone who kills three or more people with a month between murders, the Las Vegas Sun reported.
Police say the shooter is a white or Hispanic man around 6 feet tall, driving a Hyundai Tucson Sport Limited SUV that is either gray, silver or light blue.
In one clip of surveillance footage released this week, the SUV appears to be driven over a curb. In another, the suspect approaches a group of homeless men sleeping on the sidewalk and leans over them, before the footage cuts out.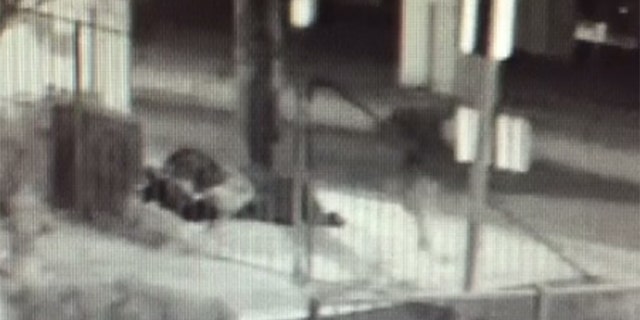 "To target homeless, [a] very vulnerable segment of our society, is cowardly," Plummer said. "It's unfortunate that anyone is homeless in today's society, but the fact that they're homeless doesn't mean they're easy targets for being a victim. We care about our homeless as much as we care about the residents who live in Summerlin or Spanish Trails, Henderson... wherever."
Police say the first shooting happened on Jan. 29 in Logandale near a convenience store, in which the gunman fired off several rounds at the victim, striking him once, before fleeing. The wound was non-life threatening and the victim was alone at the time of the shooting, Plummer said.
Hours later, around 3 a.m. local time, the suspect fatally shot a homeless who was sleeping in a group outside the Rancho Discount Mall, Plummer said. The victim was identified as 51-year-old Brian Wayne Clegg.
Another homeless man was the suspect's next target, who took a bullet to the face around 7 a.m. that day but survived, police say. The man did not, however, provide details to police about the shooting.
On Friday, Feb. 2, the gunman struck again by firing two rounds into the head of James Edgar Lewis, 64, killing him around 4:15 a.m. as he was sleeping on the street near U.S. 95, the Las Vegas Sun reported. In that incident, caught on video, the suspect was seen fleeing in his SUV.
Las Vegas police are asking locals and business owners to check surveillance footage from Jan. 29 to Feb. 2 for any additional clues. Investigators determined that the SUV caught on camera fleeing the scene of the first shooting was linked to another one of the shootings later that morning, according to the Associated Press.
"We're doing everything we can to get this person in our custody," Plummer said.