Post of teen sitting alone at birthday party goes viral, sparks card frenzy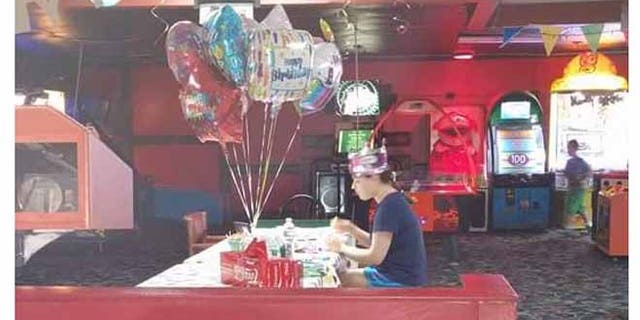 NEWYou can now listen to Fox News articles!
A Facebook post that includes a photo of a Maine teen sitting alone at her birthday party has gone viral, sparking strangers from around the world to send her cards.
A woman in Massachusetts posted the picture this week to make sure her cousin Hallee Sorenson, who has autism, wouldn't have an unhappy birthday when she turns 19 July 2, NECN-TV reports.
Hallee sent invitations to friends and was excited to go bowling with them on her 18th birthday last July, Rebecca Guildford, of Oxford, Mass., wrote.
"Hallee sat at her party anxiously waiting for her friends to arrive so they could have fun," she said. "But Hallee's friends would never arrive. Not a single one."
Guildford asked people reading her Facebook post to send birthday cards, the station reported Friday.
She never expected the response she got. As of Saturday, the post had been shared more than 196,000 times and received dozens of comments from people pledging to send cards.
NECN's report showed Hallee's mother Allyson Seel-Sorenson retrieving a stack of birthday cards from her mailbox in Bangor the other day. People have also sent flowers and balloons.
"(Rebecca) has called me a dozen times and said, 'I'm so sorry. Do you still love me? Which I think is just hysterical," Seel-Sorenson told the Bangor Daily News.
The paper reported Saturday that Seel-Sorenson shot the viral photo.
"I was standing behind a pillar. I was crying," she said. "No one showed up. No one called. Hallee just doesn't understand. You can't explain it to her. She operates at a 6-year-old's level. She just doesn't get it."
Seel-Sorenson told the paper she and husband don't plan to have a big birthday party for Hallee this year, despite generous offers from people and businesses to throw her a party for free.
It will be low key--except for all those cards.