Pope Francis lauds bishops' response to sex abuse crisis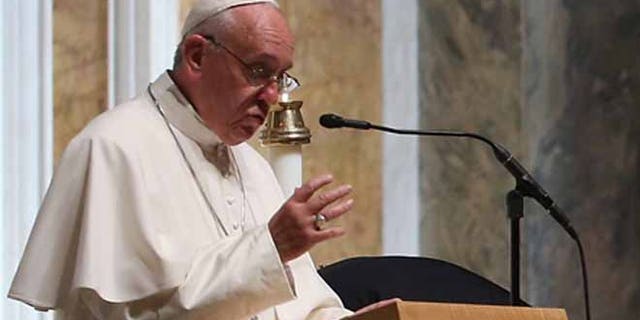 NEWYou can now listen to Fox News articles!
Pope Francis on Wednesday praised U.S. bishops for their response to the clergy sex abuse crisis.
Speaking before the bishops at a worship service in Washington, Francis lauded them for what he called their "generous commitment to bring healing to victims." He praised them for having courage and acting, as he saw it, "without fear of self-criticism."
The clergy sex abuse scandal erupted in the U.S. in 2002 and turned into the biggest crisis in the history of the American church.
Under enormous public pressure, the U.S. Conference of Catholic Bishops pledged to oust any guilty clergy from church work and enact safeguards for children.
However, the scandal persists, and victims say the bishops still haven't fully accounted for sheltering abusers. This year, three bishops resigned in crises over their failures to protect children.
Francis also encouraged the bishops in their ministry to immigrants, praising them for taking up the immigrants' cause and urging the bishops to welcome even more foreigners coming across the border.
Francis praised the bishops for defending the rights of migrants, helping them to prosper and keeping their faith alive.
"Do not be afraid to welcome them," Francis said. "I am certain that, as so often in the past, these people will enrich America and its church."
U.S. bishops have been demanding a more welcoming policy toward immigrants in the country and hoping Francis' visit will counter a divisive issue in the presidential campaign.
Tens of thousands of families and unaccompanied minors from Central America have surged across the border as violence has flared in the region. Many have been held in detention centers that the U.S. bishops and immigrant-rights advocates have decried as inhumane and ineffective.