Police: Suspicious device found at New Mexico church weeks after explosions at other churches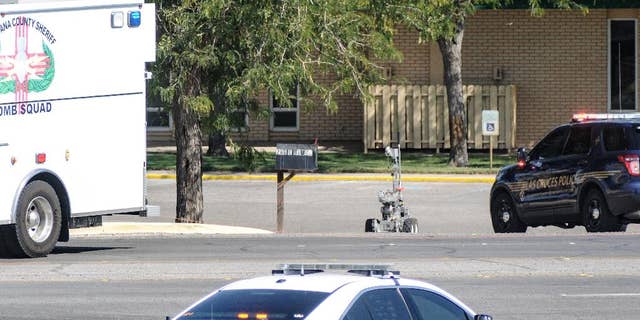 NEWYou can now listen to Fox News articles!
LAS CRUCES, N.M. – Police say a suspicious device found on the grounds of the First Presbyterian Church in Las Cruces has been rendered safe, just two weeks after the detonation of explosive devices outside two other churches in the city.
Las Cruces Police spokesman Dan Trujillo said a bomb squad from the Doña Ana County Sheriff's Office made sure the device was safe. He would not say whether it was an explosive.
A church groundskeeper found the device Friday. Trujillo said it wasn't attached to the church but was on its grounds.
On Sunday, Aug. 2, a pair of small explosions just 20 minutes and a few miles apart shocked congregants at two other churches in Las Cruces, New Mexico's second-largest city.
There were no injuries or deaths from the blasts outside Calvary Baptist and Holy Cross Roman Catholic. Each building sustained minor damage.
Federal authorities have released surveillance footage from the Calvary Baptist case. They are offering a $20,000 reward for information leading to the arrest and conviction of those responsible for the blasts.
Meanwhile, investigators including the FBI were looking into the origins of the device found Friday. They have not ruled out the possibility that the incident was connected to the church explosions and to a suspicious package found last week at Mesilla Valley Mall.
"It will be investigated under its own merits but in relation to the other incidents we've had," Trujillo said.
Authorities lifted a shelter-in-place order for Las Cruces High School and a couple of day care centers around 12 p.m. A portion of Boutz Road near the church remained closed as the investigation continued.