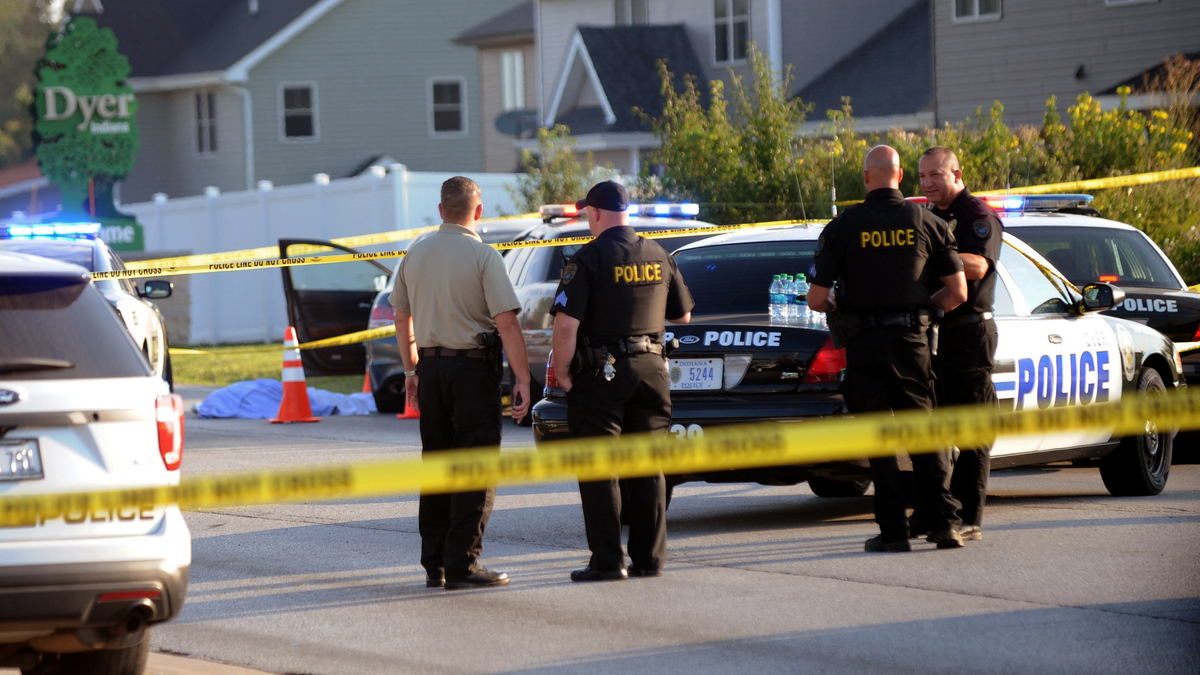 DYER, Ind. – A suspected car thief was shot to death after a police chase in south suburban Chicago during which the fleeing car struck a pedestrian early Thursday, authorities said.
The chase wound through at least two Illinois communities and into Indiana, where the suspect was fatally shot about 6 a.m. in the town of Dyer, Indiana, about 30 miles (50 kilometers) south of downtown Chicago.
Authorities didn't immediately release information about the circumstances of the shooting, which is being investigated by Indiana State Police. In the confrontation's aftermath, both windows on the car's passenger side were broken out and the vehicle was just off a road near a gas station in a suburban area a few blocks east of the Indiana-Illinois state line.
The Lake County, Indiana, coroner's office identified the slain person as Mark P. Coffey, 33, of Chicago Heights, Illinois. The office said the man suffered gunshot wounds but didn't give further details of how he died.
Crete, Illinois, Police Chief James Paoletti said officers from his department spotted the suspected stolen car and chased it to a church parking lot in nearby Dyer, where they confronted the driver.
"He was making numerous movements that appeared that he was holding a weapon and was going to shoot at police," Paoletti told The Associated Press.
The driver then fled back into Illinois where he ditched the vehicle for a second stolen car, Paoletti said.
Soon afterward, the fleeing car struck a pedestrian, said Robert Kowalski, the police chief of Sauk Village, Illinois. The pedestrian was taken to a hospital but Kowalski provided no details on the person's condition.
"It's a shame because it was an innocent bystander just out for a morning walk," Kowalski said. "The best time to walk around here is in the morning. It's nice and quiet."
Kowalski said the Crete officers broke off the chase to help the pedestrian and Indiana police were notified by radio that the suspect's car was heading east.
Indiana officers soon confronted the car, but Indiana State Police spokesman Master Trooper Glen Fifield said he couldn't immediately confirm whether the person shot was armed or what prompted officers to open fire.
Multiple officers from the Dyer, St. John and Lake County police departments were involved, Fifield said.
Witness Ben Dykstra said the fleeing car side-swiped his vehicle and shots rang out just after he pulled over into the gas station.
"The officers were trying to break the windows of the car," he told WLS-TV. "Then they started shooting. I don't know if the suspect had a gun or what."