Police suspect attacker killed 2 homeless men, stabbed third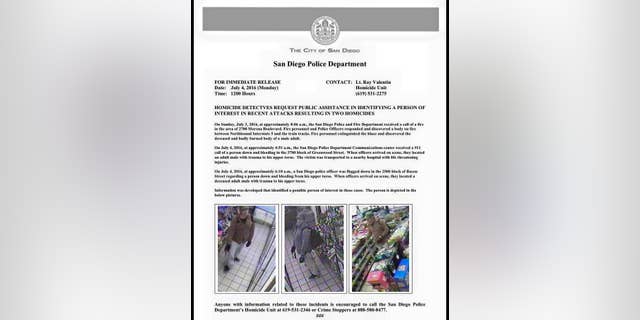 NEWYou can now listen to Fox News articles!
SAN DIEGO – San Diego police are searching for a man suspected of killing two homeless men and stabbing a third in a series of attacks over the weekend.
The Union-Tribune reported the unidentified suspect is linked to a burned body found Sunday under a highway and a body discovered Monday a few miles away.
Authorities said the man was seen running from the area near the fire. Early the next day, police found a homeless man with serious stab wounds at an intersection. He was hospitalized with life-threatening injuries.
A few hours later, officers discovered the second body.
Police released grainy images of the suspect taken from a convenience store camera and sought help identifying him. They described him as 30 to 50 years old, wearing a hat and carrying a backpack.