Police Search for Gunman Who Allegedly Opened Fire on Calif. Freeways, Injuring 1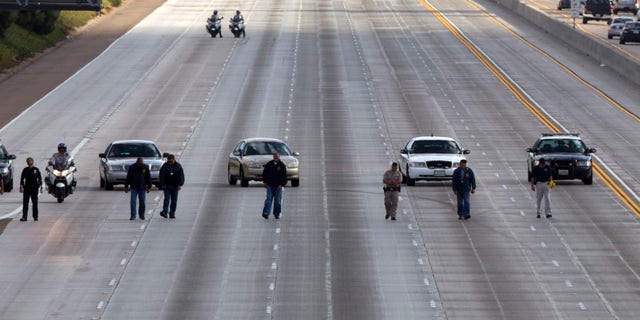 NEWYou can now listen to Fox News articles!
Motorists are being urged to avoid driving on two San Diego freeways after a gunman fired on at least two vehicles Monday, injuring one man before fleeing the scene, Fox5SanDiego.com reports.
A 26-year-old man was hit about 10:45 a.m. Monday on I-805 and was being treated at a hospital, San Diego Police Lt. Darryl Hoover told reporters. About 15 minutes later, shots were fired again along I-805 where a California Highway Patrol officer was assisting a motorist, and on northbound Interstate 5, where a bullet hit an ambulance on the fender. No one was injured in either of those incidents.
The assailant was driving a Chevrolet Malibu and was driving north on Interstate 5, connecting San Diego and Los Angeles, California Highway Patrol officer Larry Landeros said.
Late Monday, CHP identified the registered owner of the sedan as Enrique Ayon, 24, and were looking for him as a person of interest. Ayon is considered armed and dangerous, authorities said.
Authorities shut down a 3-mile section of I-805 for hours to comb the area for the suspect, casings and other evidence. It later reopened but officials then shut down a section of I-5 to search that area.
It was the second time this year a gunman has been reported shooting at cars traveling on a freeway in San Diego County. In April, a 21-year-old University of San Diego student was injured in the rib cage after a gunman fired at cars driving on another San Diego freeway.
Police arrested 58-year-old Stephen Dragasits, after examining DNA on bullet casings along the freeway. He has pleaded not guilty to attempted murder and firearms charges. Police have not determined a motive.
Police said he is linked to shootings that struck two cars. No one else was injured.
Dragasits, of New York, was a former San Diego County worker and a Navy veteran, prosecutors said.
Click here for more on this story from Fox5SanDiego.com