Police say Texas woman died after fall from roller coaster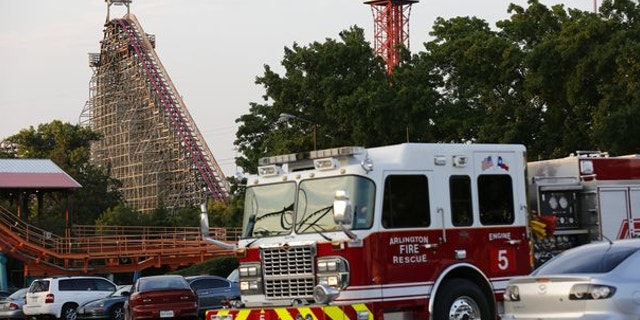 NEWYou can now listen to Fox News articles!
ARLINGTON, Texas – Authorities said Saturday that a woman who died Friday evening in an accident while riding the roller coaster at a Texas amusement park appeared to fall off the ride.
Arlington Police Sgt. Christopher Cook told The Associated Press on Saturday that there appears to have been no foul play in Friday's death at the Six Flags Over Texas park in Arlington. Police say the Texas Department of Insurance, which approves amusement rides, is involved in investigating the accident.
The accident happened just after 6:30 p.m. Friday at Six Flags Over Texas in Arlington. Park spokeswoman Sharon Parker confirmed that a woman died while riding the coaster at Six Flags Over Texas in Arlington but did not specify how she was killed.
A family in line behind the woman, identified by family members to MyFoxDFW.com as Rosy Esparza, said that Esparza was on the ride with her daughter and son-in-law. The family said her seat restraint seemed to go down normally before the car left. They said when the train came back, the seat restraint was down.
The family said Esparza's daughter and son-in-law were calling for help. They were screaming, "We need to go get my mom!"
Witnesses told local media outlets that the woman fell from the ride, which is billed as the tallest steel-hybrid roller coaster in the world.
"She goes up like this. Then when it drops to come down, that's when it (the safety bar) released and she just tumbled," said Carmen Brown of Arlington. Brown said she was waiting in line to get on the ride when the accident happened.
"They didn't secure her right. One of the employees from the park -- one of the ladies -- she asked her to click her more than once, and they were like, `As long you heard it click, you're OK.' Everybody else is like, `Click, click, click.' Hers only clicked once. Hers was the only one that went down once, and she didn't feel safe, but they let her still get on the ride," Brown told The Dallas Morning News.
MyFoxDFW.com reported that fire crews had to use a ladder truck to get to the platform below the roller coaster where Esparza's body had fallen.
Six Flags expressed sadness over the death and said it was temporarily closing the section of the park around the accident site. It didn't say how long the area would be closed. A message left for Parker by The Associated Press wasn't returned.
"We are deeply saddened to share that earlier this evening an adult woman died in the park while on the Texas Giant. Park medical staff and local paramedics responded immediately. Since the safety of our guests and employees is our number one priority, the ride has been closed pending further investigation. Our thoughts and prayers are with the family and friends during this difficult time," the statement said.
The Texas Giant reaches 14 stories high and has a drop of 79 degrees and a bank of 95 degrees. It can carry up to 24 riders. The ride first opened in 1990 as an all-wooden coaster but underwent a $10 million renovation in 2010 to install steel-hybrid rails before reopening in 2011.
Brown said she was next in line behind the woman and saw her being strapped into her seat next to her son.
"We heard her screaming. We were like, 'Did she just fall?"' Brown said.
Arlington police Sgt. Christopher Cook, the department spokesman, referred all questions to Parker. No other details were available.
In 1999, a 28-year-old Arkansas woman drowned and 10 other passengers were injured when a raft-like boat on the Roaring Rapids ride at Six Flags overturned in 2 to 3 feet of water about 200 feet from the end of the ride.
Six Flags Over Texas opened in 1961 as the first amusement park in the Six Flags system. It is 17 miles west of downtown Dallas.
Click for more from MyFoxDFW.com
The Associated Press contributed to this report.