Police reportedly find gun used in double homicide linked to Hernandez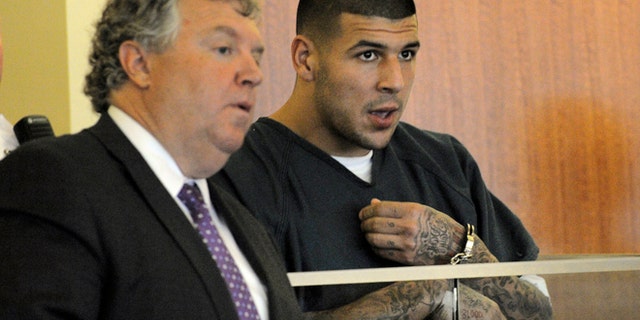 NEWYou can now listen to Fox News articles!
Massachusetts State Police have reportedly recovered a gun used in a 2012 double homicide that has been linked to former New England Patriot Aaron Hernandez.
MyFoxBoston.com reports that police found the .38-caliber revolver in a car driven by 19-year-old Jailene Diaz-Ramos, who was involved in a car accident in Longmeadow in June.
Police also recovered several rounds of ammunition that Diaz-Ramos was not licensed to carry, according to the report. The Bristol, Conn., resident has reportedly since been arraigned on firearm charges.
Sources told MyFoxBoston.com that ballistics tests revealed that the weapon was involved in the unsolved murder homicide in downtown Boston.
The two victims, Daniel Jorge Correia de Abreu, 29, and Safiro Teixeira Furtado, 28, were killed in the July 15, 2012 shooting. Witnesses reported seeing gunfire coming from a gray SUV with Rhode Island license plates.
An official told MyFoxBoston.com in July that investigators believe Hernandez and the 2012 shooting victims were at the same Boston night club before the fatal altercation.
Hernandez has plead not guilty to murder in the death of semi-professional football player Odin Lloyd, whose body was found near his home on June 17.
Prosecutors say Hernandez orchestrated Lloyd's killing because he was upset at him for talking to some people at the club. Hernandez's lawyers say the case against him is circumstantial and they are confident he will be exonerated.
Hernandez is being held in jail without bail.
Two other men who authorities say were with Hernandez on the night of Lloyd's killing are facing lesser charges. Ernest Wallace has pleaded not guilty to a charge of accessory to murder after the fact. Carlos Ortiz has pleaded not guilty to a firearm charge. Both are being held without bail.
Police have reportedly found the gun used in a 2012 double homicide allegedly linked to Aaron Hernandez.
Click here for more from MyFoxBoston.com.
The Associated Press contributed to this report.