Police report, neighbor's 911 call released in Arizona child imprisonment case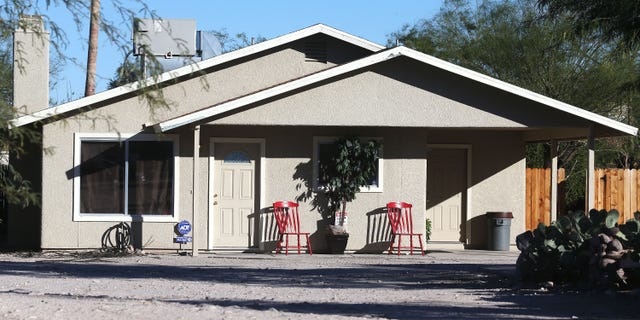 TUCSON, Ariz. – A 17-year-old Arizona girl hugged her two younger sisters, touched their faces and talked about how they had all changed when they finally were reunited after their mother and stepfather kept them imprisoned in their home for up to two years, authorities said.
It's been a week since the Tucson girls were freed. On Tuesday, authorities revealed more details with the release of a police report and a transcript of a neighbor's 911 call.
Investigators said the two younger girls, ages 12 and 14, escaped Nov. 26 through the window of the bedroom they shared and alerted a neighbor. They said their stepfather had a knife and that they were scared for their lives, authorities said.
Police said the three girls were malnourished and dirty. One of them said she hadn't showered in more than a month.
The girls' stepfather, Fernando Richter, and their mother, Sophia Richter, face multiple counts of kidnapping and child abuse.
The two remained in custody Tuesday and could not be reached for comment. No current attorney was listed for either parent in court records. The Richters made brief court appearances by video Nov. 27, but neither entered a plea.
The parents appeared to be drunk when police arrived at the home Nov. 26, the police report said.
"Fernando had bloodshot, watery eyes, odor of intoxicants coming from his person and stumbled as he walked," the report said. Sophia Richter was in a similar state, according to authorities.
When police asked the stepfather who else was in the home, he answered only that his two dogs were there. However, officers say they found the oldest girl locked in a back bedroom with music blaring.
The music played constantly from the girls' bedrooms, and duct work was sealed and towels were forced against doors to prevent the sound from being heard outside, police said.
There were motion sensors and locks on the girls' bedroom doors and video cameras trained on their beds. If the girls needed to use the bathroom, there was an unspecified signal for them to let the parents know they needed a bathroom break, according to police.
When police asked the oldest sister what had happened, she replied: "I haven't seen anyone in two years. I am in my room all day, and I have not seen my sisters in a year and a half."
She went on to tell officers that she was let out of her room once a day to go to the restroom and that she was not allowed to go outdoors or look outside. The girl showed an officer that she had made a calendar, which she kept in a handmade purse she wore around her neck.
Pointing to the calendar, she said: "Look, I haven't showered since the 19th of September."
The sisters were reunited in the living room of their home after police got the older girl out of her bedroom, investigators said.
The girls were excited to see each other, and all three had small stuffed animals that they said they had made. The sisters asked each other questions about what they had eaten and how they spent their time.
"All three advised each other they listened to music and danced occasionally and would make things all day," the police report stated.
As police walked through the home to find jackets and shoes for the girls, they reported seeing video cameras, a knife near the master bedroom door, and what appeared to be urine in bottles.
The two younger girls told officers they escaped because their stepfather was mad and was trying to get into their room. They said they feared for their lives.
"They started to hear a loud bang at their door," the police report states. "After the bang, they observed the bottom half of their door cave in and break. Through the break in the door, they observed Fernando to be squatting by the open space, holding a knife near his chest and yelling at them."