Police recover stolen World War I-era cannon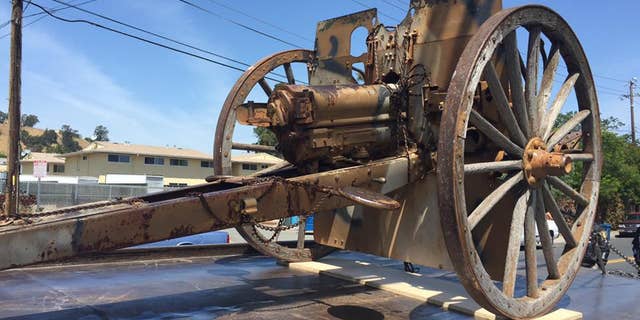 NEWYou can now listen to Fox News articles!
Northern California police on Thursday recovered a 1-ton, World War I-era cannon swiped from a Veteran's Hall earlier this month.
Richmond police said the cannon was stolen May 1 when nearby vendors were setting up the city's Cinco de Mayo festival. Surveillance video captured two men using bolt cutter to cut a chain securing the cannon and towing it away it on the back of a pickup.
A man who purchased the cannon called police Thursday after seeing a report of its theft. Lt. Felix Tan says it appears the buyer didn't know the cannon had been stolen.
Tan said that the cannon's metal is worth about $1,500 when melted down.
"It's priceless in my book," Tan said.
Tan said it appears the thieves developed a well-thought out plan to steal the cannon. They struck at a time when a pickup hauling a large cannon wouldn't seem out of place because of preparations to celebrate the Mexican Army's victory over French forces on May 5, 1862. Further, Tan said that a major thoroughfare through the city was closed because of Cinco De Mayo, allowing the thieves a quick escape.
The inoperable 5-foot iron and brass cannon had been on display at the Veteran's Hall since 1947.
Tan said police are continuing to investigate and looking for the two men who stole the military relic.