Police Raid New York Home in Hunt for Possible Serial Killer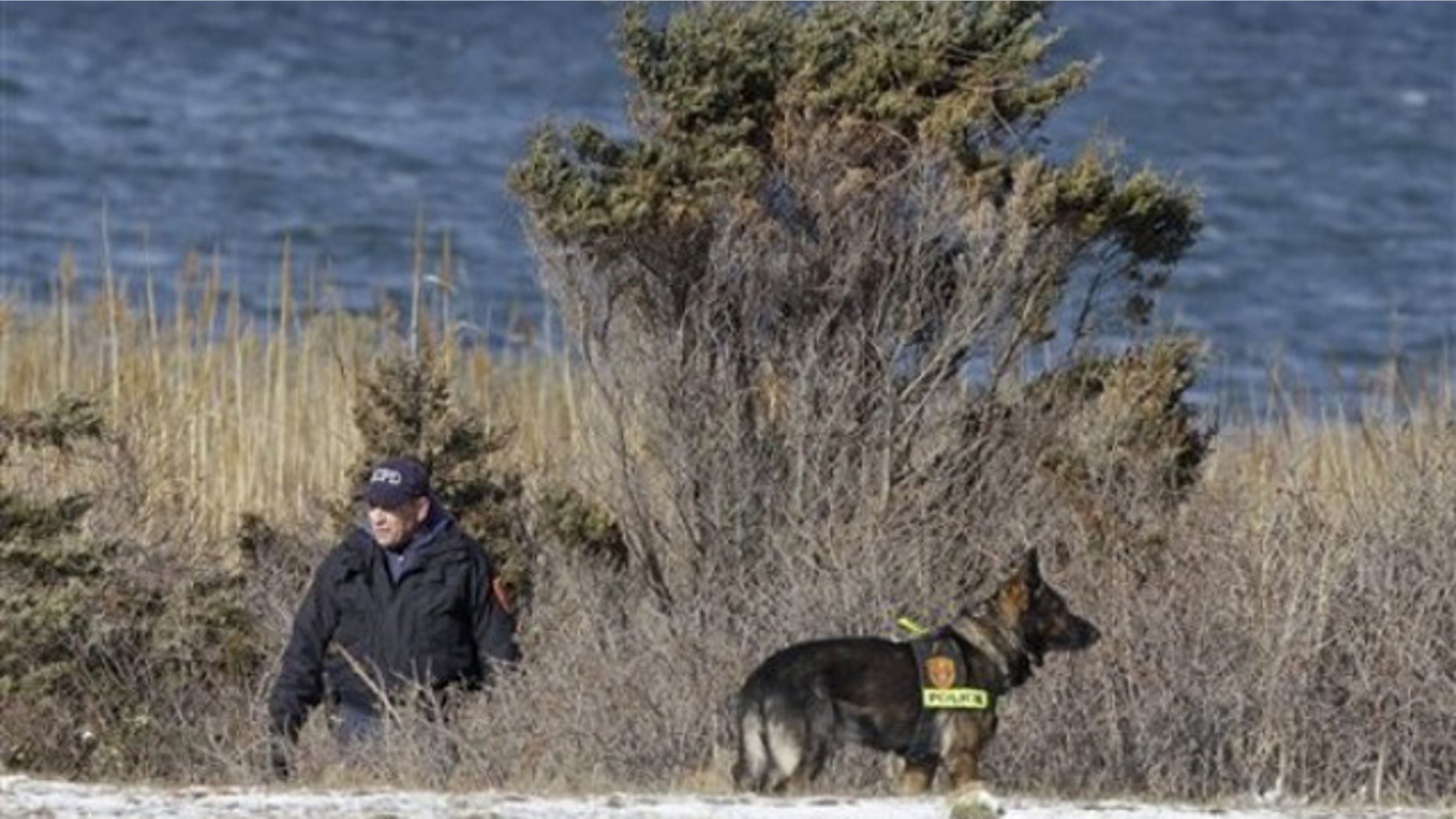 Police and FBI agents investigating the discovery of four bodies near a remote New York beach raided a Long Island home Thursday where a missing New Jersey woman was last seen, sources tell FoxNews.com.
An official with the Suffolk County Police Department said a white sport utility vehicle was taken from an Oak Beach, N.Y., residence but declined to name the owner.
The official, who spoke on condition of anonymity due to an ongoing investigation, also said authorities returned Thursday to the secluded section of Ocean Parkway looking for more possible victims.
Police on the southern shore of Long Island found the badly decomposing remains of four women along a quarter-mile stretch of the parkway earlier in the week.
Authorities were conducting a "training exercise" on Saturday when they came across the first body. A police canine unit chose the area in response to a missing-person report made in May after Jersey City, N.J., resident Shonnan Gilbert disappeared. Three more bodies were discovered on Monday.
Gilbert was reportedly last seen alive on May 1. The woman worked as a prostitute and had arranged through the Craigslist classified ads website to meet a client on Fire Island -- about a mile from Oak Beach, a police source told FoxNews.com.
Authorities said they are hunting for a possible serial killer who may have dumped the women in area. The women's remains were found in different stages of decomposition, according to a police source, leading authorities to believe that they were dumped over the course of a year -- possibly even two years.
The women have not yet been identified. Police reportedly said that a preliminary view of the corpses suggests Gilbert was not among the four victims found.
Authorities have not released the name of the Oak Beach homeowner, but local news reports say Gilbert was last seen at the home of Joseph Brewer.
When FoxNews.com called a phone number registered to a Brewer family member, a man answered the phone and said "we have no information." He directed FoxNews.com to call the police with any questions.
The New York Post reports that Brewer invited Gilbert to his home for a party on May 1 after corresponding with her through Craigslist.com. The 24-year-old woman reportedly ran frantically from Brewer's home later that night, and banged on the door of neighbor Gustav Colletti, asking for help. Gilbert's mother also reportedly told the newspaper that her daughter called 911, saying, "He's trying to kill me! Help me!"
Meanwhile, the mother of a Maine woman who worked as a Craigslist escort and went missing from a hotel on Long Island said police informed her that her daughter may be one of the victims.
Twenty-two-year-old Megan Waterman, of Scarborough, Maine, was last seen in June in Hauppauge, N.Y., where she went with her boyfriend.
Waterman's mother, Lorraine Ela, told The Associated Press that a Scarborough detective told her he was "leaning toward one of the four victims being Megan, but he's not 100 percent guaranteed."
Click here for more on this story from MyFoxNY.com
Click here for more on this story from the New York Post 
FoxNews.com's Cristina Corbin and the Associated Press contributed to this report