Police officer pumps, pays for elderly woman's gas, viral Facebook post shows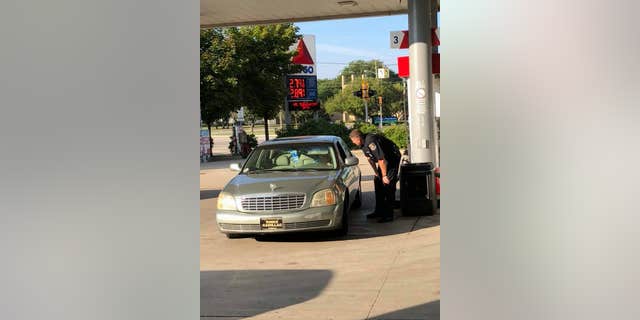 A viral Facebook post describes how a police officer helped out an elderly woman in a big way, during an encounter at a gas station on Friday.
"An elderly woman came into my station today and gave me $3 in change to put on her gas pump," Seth Kazz, who Fox 4 identified as a Citgo gas station owner in St. Clair Shores, Michigan, recalled.
Kazz added that a nearby officer was listening "and saw she was using a cane, struggling to walk back to her car."
The officer headed outside and said he'd pump her gas himself.
"After a few minutes of getting to know one another he realized she was really struggling and didn't have any gas or money left," he shared. "The $3 will only get her so far."
The officer's kindness continued, according to Kazz's account: he then went inside and paid more for the woman's gas.
"He went back and finished pumping and she told him her husband had recently passed away and she's stuck paying all their bills and is behind every month. This $20 really helped her!" Kazz said.
DEER SPOTTED HUGGING FIREFIGHTER ON CANADA FERRY
The spoke about police officers in a Facebook post, which as of Tuesday afternoon, had more than 33,300 reactions, 3,000 comments and 14,600 shares.
"Nowadays there's so much negativity towards police officers. No one respects them," Kazz wrote. "We hear all the complaints and 'bad' stories. I'm not saying every officer is perfect, I'm sure some are at fault at times. We all make mistakes- but we should all respect, appreciate, and thank them for what they do."
Kazz added: "To all the men and women in blue I THANK YOU for your service!"
Kazz, who says he has set up a GoFundMe account for the woman, told Fox News "she looked very excited" by the officer's gesture, which he hadn't seen the man do previously.
"But I know the officer has played basketball with kids before," he shared. "The community loves him."