Police: New York Pharmacy Shooting Suspect Has Shown 'No Remorse'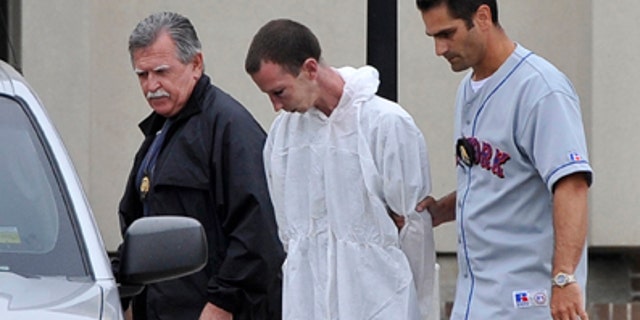 NEWYou can now listen to Fox News articles!
A former soldier accused of fatally shooting four people at a New York pharmacy during a robbery for painkillers has shown "no remorse" since his arrest, police said Thursday.
Suffolk County Police Commissioner Richard Dormer said David Laffer, 33, and his wife, Melinda Brady, 29, were arrested Wednesday in connection with the Father's Day massacre at the Haven Drugs in Medford, about 60 miles east of New York City.
"He has not been cooperating with our detectives and has shown no remorse," Dormer said during a news conference. "It's very difficult to comprehend this. This is very unusual. We found out that there was no criminal background with [Laffer], and to suddenly engage in this behavior, it doesn't make sense."
Laffer pleaded not guilty later Thursday. He was ordered held without bail. Suffolk County Assistant District Attorney John Collins called the shooting at the "most cold-blooded robbery-homicide in Suffolk County history."
Collins said investigators recovered a matching fingerprint at the crime scene, and they also recovered the.45-caliber gun believed to have been used in the shootings. The weapon was registered to Laffer, and was found disassembled in his home, authorities said.
Brady was accused of driving Laffer to the drug store before he entered and began firing. She was hospitalized on Thursday, but police refused to indicate why. She was charged with third-degree robbery and obstructing governmental administration for interfering with police during Wednesday's arrest, but it's unclear when she will be arraigned.
"He was doing it because he lost his job and I was sick," Brady said as she was led from Suffolk police headquarters in Yaphank. "He did it. He did all of this."
Earlier Thursday, Dormer said numerous weapons and an unspecified amount of ammunition were recovered from the couple's home. He did not elaborate.
The pharmacy's registry was a key piece for detectives in locating Laffer. His name appeared on the drug store's customer list and both he and his wife were "obviously under the influence" of narcotics at the time of their arrest, Dormer said.
Dozens of officers converged on Laffer's home early Wednesday, making a "dynamic" and effective entry, Dormer said.
"The potential for violence was something we had to consider," he said. "This was a very, very dangerous individual. So it had to be done quickly, effectively and with force."
Suffolk County Executive Steve Levy said more than 400 calls were received by police in connection to clear surveillance photos released by authorities following the "brutal, execution-type" Father's Day shooting. He praised "outstanding work" by detectives and warned against attempting to elude authorities after such a crime.
"You're going to get caught," Levy said. "You will not be able to hide. Hopefully this is the last such horrible event that we have to deal with in the future."
Friends and neighbors said if there were drug problems, they did not see it. He lived at his family's home in Medford with his mother, Pam, and his wife.
According to their wedding announcement, Laffer and his future wife met while they were out to dinner with mutual friends, and he proposed to her at an Islanders game. "To Melinda's complete surprise, he had been planning the engagement for more than a year and his proposal was shown on the large TV screens in the arena," according to the 2009 announcement.
Next-door neighbor Trish Bohlert attended the wedding and said Laffer was always friendly.
"Something must have made him snap, because his personality, I can't picture him robbing a store, much less hurt people," she said.
Zaida Ayala, a longtime neighbor, said Laffer is "a guy that I feel comfortable with, a guy that I could be out, 1 o'clock in the morning in my backyard, and he could be in his backyard and I wouldn't run inside and go get my husband."
She said she does not believe he is the shooter.
"You could give me a million dollars to pick somebody and he would be the last person I would've picked," she said.
Laffer served in the Army from 1994 until 2002 and attained the rank of private first class, said Mark Edwards, a spokesman for the U.S. Army Human Resources Command in Fort Knox. While in the service, he worked as an intelligence analyst.
His Facebook page showed he was interested in weapons and science fiction. He lists himself as a fan of the conspiracy-based science fiction drama "Dark Skies" and the Spike TV show "Deadliest Warrior." He also lists Springfield XD, a type of pistol, among his interests.
The wedding announcement said Laffer worked in logistics shipping and receiving.
Laffer's victims have been identified as two employees, pharmacist Raymond Ferguson, 45, of Centereach, and store clerk Jennifer Mejia, 17, of East Patchogue, and two customers, Bryon Sheffield, 71, of Medford, and Jamie Taccetta, a 33-year-old woman from Farmingville.
It was the worst mass killing in Suffolk County since 1974, when a man shot six relatives to death in Amityville, a crime that spawned horror films and a book after the family's home was said to be haunted.
At the pharmacy, about a mile and a half away from the Laffer home, bouquets of fresh flowers, and stuffed animals lined the shuttered storefront. A sign read, "closed until further notice."
FoxNews.com's Joshua Rhett Miller and The Associated Press contributed to this report.