Police: Missing Mexican woman's body found in Utah canyon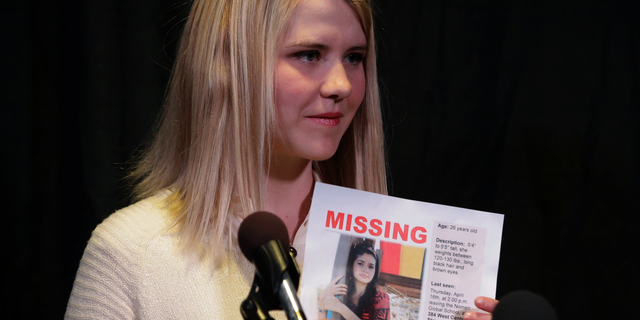 SPANISH FORK, Utah – The body of a Mexican woman who disappeared on her way home from her English language class in Utah three years ago has been found in a rugged, mountainous canyon area and police are investigating her death as a homicide, officials said Thursday.
The skeletal remains of 26-year-old Elizabeth Elena Laguna Salgado were discovered last Friday by a man searching for camping spots in an area popular for hiking, fishing and camping about 15 miles (24 kilometers) from where Salgado was last seen in downtown Provo, Utah.
Officials with the Utah County Sheriff's Office and Provo police told reporters the death is considered suspicious.
They said they are interviewing "persons of interests" who are not suspects but declined to offer more details.
Activist Elizabeth Smart has been among those publicly pleading for information about Salgado's disappearance. Smart was kidnapped from her Salt Lake City bedroom by street preacher Brian David Mitchell in 2002 at age 14 and held captive for nine months before she was found. Mitchell was convicted of kidnapping and raping Smart and sentenced to life in prison.
A medical examiner is trying to determine how Salgado died, officials said. Her body was decomposed after being out in the elements for what appears to be several years and she was identified through dental records, said Utah County Sheriff James Tracy.
The man who found her remains is not considered a suspect, officials said. They declined to provide the exact location of the discovery, but said it was a short distance from a road in a forested spot where it's rare for people to leave their vehicles.
Salgado was last seen on April 16, 2015, as she left a class to walk home in Provo, about 45 miles (72 kilometers) south of Salt Lake City. Salgado was from Chiapas, Mexico, and had moved to Provo about a month before her disappearance to study English shortly after finishing a Mormon mission in Mexico.
The discovery was devastating for Salgado's family, who held out hope she was alive, said Eloy Monge, consul for legal protection with the Mexican Consulate in Salt Lake City.
Most of Salgado's relatives live in Mexico and she was living with roommates in Utah when she disappeared.
Her family began a desperate search after losing contact with her. She usually talked with them every day. Her uncle Rosemberg Salgado has described her as an optimistic, spiritual woman.
Authorities were coordinating Thursday with the Mexican officials to notify Salgado's parents, who live near Tuxtla Gutierrez, the capital city of the southern Mexican state of Chiapas, Monge said. He said Salgado's brothers had been notified of her death.
Tracy said two of Salgado's uncles who live in California had also been told of the discovery. One uncle, Rosemberg Salgado, had been vocal in pleading for help finding his niece, who he described as an optimistic, spiritual woman.
Telephone and text messages left with Rosemberg Salgado by The Associated Press were not immediately returned. He told the Deseret News that he can't believe someone would kill his niece, who came to the United States to learn English, become a better person and get "married in a temple with a good guy," per Mormon traditions.
"Whoever did this, we are going to find them," Rosemberg Salgado said. "We will not stop until that person or people that were involved (are found)."
Officials characterized the discovery of Salgado's body as a lucky break following three years of investigation and hundreds of interviews. Deputies had driven past the location where she was found dozens of times in recent years, said Sgt. Spencer Cannon of the Utah County Sheriff's Office.
"We'll take any break, anytime, anywhere. Some days it's better to be lucky than good," said Tracy, the sheriff. "We're fortunate and thankful that this individual happened to get off the road and walk into the forest to make that discovery."