Police ID suspect in deadly car rampage as 24-year-old homeless woman
A 24-year-old homeless woman who cops said had been living in her car with her 3-year-old daughter in Las Vegas for about a week was charged Monday in the automobile rampage that killed one and wounded at least 35 others Sunday night.
Lakeisha N. Holloway appeared "stoic" when cops encountered her soon after the 1996 Oldsmobile sedan she was driving plowed into a crowd on the Las Vegas Strip multiple times – all while a young child was sitting in the backseat.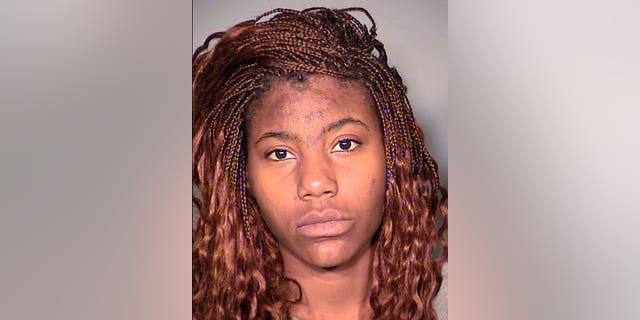 "She didn't appear to be distressed due to her actions," Sheriff Joe Lombardo said during a Monday news conference.
Holloway was booked Monday on charges including murder, first-degree child abuse or neglect and failing to stop at the scene of an accident, according to Clark County Detention Center records.
Clark County District Attorney Steve Wolfson said he anticipated also filing numerous counts of attempted murder. The charge of fleeing the scene is a felony and, as of Oct. 1, is a non-probationable offense.
He said seeking the death penalty was "a consideration."
Authorities said Sunday they "know this was not an act of terrorism," though Lombardo did leave some wiggle room on Monday.
"As of now we do not believe it to be an act of terrorism," he said, noting that officials were not "100 percent ruling out the possibility" and are working with the FBI.
"The act is going to be very hard to explain at face value," said Lombardo, who reiterated that whatever the ultimate classification, cops believe the carnage was "an intentional act."
Lombardo also suggested a falling out with the child's father could be a possible motive, though he said authorities believed the father was living in Dallas.
"At some point we believe she was attempting to make her way that direction through Las Vegas," Lombardo said.
But Holloway never made it out of the city following a horrific scene on the Strip that she's accused of creating.
The driver "went up and off these streets, two or possible three times," Las Vegas Metropolitan Police Lt. Dan McGrath said. The suspect then allegedly drove off before being apprehended outside the Tuscany Casino. After Holloway pulled into the casino lot, Lombardo said, she left her child in the car, approached a valet and told him "she ran over some individuals on Las Vegas Boulevard."
Holloway did not demonstrate signs of being under the influence of alcohol, Lombardo said, though a police expert believed she was under the influence of "some sort of stimulant." Results of a blood test are pending.
Part of the reason Lombardo said he can't discount terrorism as a motive is Holloway's murky background. Investigators believe she's originally from the Oregon area, but otherwise have hit roadblocks.
Holloway was convicted of operating a vehicle without driving privileges and driving uninsured in December 2011, according to Oregon court records obtained by oregonlive.com.
A woman named Lakeisha Holloway, and fitting the description of the woman booked in Las Vegas, was profiled in an Oregon paper, The Skanner, in 2012 after she won a CARE Role Model award. That article details Holloway's struggles in high school, including being homeless during her freshman year. Holloway also described her mother's battles with alcohol. The Skanner piece noted that Halloway wanted to pursue a career in forestry service.
A Facebook page for a woman believed to be Halloway shows images of a newborn daughter in 2012 and a photo of the Paris Hotel & Casino in October 2012 – more than three years before she's suspected of driving into a crowd of people outside that structure with that child in the vehicle.
The crash unfolded at around 6:40 p.m. local time (9:40 p.m. EST). A woman's car was in the northbound lanes of Las Vegas Boulevard near Bellagio Way when it drove up onto the sidewalk in front of the Paris and struck pedestrians, police Lt. Peter Boffelli said. Witnesses said the car appeared to be travelling about 30 to 40 mph.
The incident took place in one of the busiest areas of the Strip, across from the famous dancing water fountains of the Bellagio hotel-casino.
The woman who died was 32-year-old Jessica Valenzuela, according to Clark County Coroner John Fudenberg. Valenzuela, of Buckeye, Ariz., was visiting Las Vegas with her husband, Fudenberg said. An autopsy is scheduled for later Monday and the cause of death is pending.
The Associated Press contributed to this report.