Police fatally shoot man holding California teacher hostage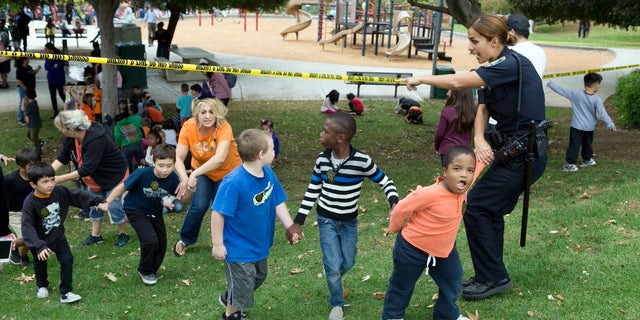 RIVERSIDE, Calif. – A SWAT team shot and killed a man who held a 70-year-old first-grade teacher hostage at his daughter's Southern California school during what his family said was an emotional crisis.
The parent, who died at a hospital, was identified by Riverside authorities late Tuesday as Luvelle Kennon, 27, but no other information about him was released.
Exactly how the incident at Castle View Elementary School began was not clear, but it quickly became violent. An unidentified male substitute teacher suffered a broken nose and other facial injuries while trying to intervene, a police spokesman said, calling him a hero.
"He did everything he could to try to prevent the suspect from taking the teacher into the classroom and being held hostage, to the point where he got hit in the face pretty good," Officer Ryan Railsback said.
Calls to 911 began coming in to emergency dispatchers at 11:12 a.m., reporting a disturbance and altercation involving a parent. By the time officers arrived, it had escalated to a barricaded hostage situation.
There were no students in the classroom at the time, and eventually all the students in the school were moved to a nearby park as the SWAT team, a bomb squad and detectives were brought in.
Kennon's relatives came to the scene in hopes of intervening.
"He's not dangerous," Kennon's uncle Carl Jackson said before the standoff ended. "It's just a matter of getting in there and talking to him, because we can talk to him."
Jackson said Kennon had just suffered an "emotional breakdown," though he did not elaborate.
SWAT officers were able to communicate with Kennon at times, but all the while, the safety of the teacher was unknown. After hours of trying to arrange a surrender, the SWAT team moved in to rescue the teacher.
"We, of course, had been fearing for the hostage's life all day," Railsback said, but the decision to hurl distracting flash-bang grenades and storm the classroom was made because "the fear for her safety was increasing."
Kennon was declared dead at a hospital hours later. Police did not immediately say whether he had a weapon but did say he had brought a backpack onto the campus.
The teacher was taken to a hospital for examination but had only minor injuries and was in good condition, Railsback said.
Family members and the school identified her as first-grade instructor Linda Montgomery, who has taught at the school for about 20 years.
"She's really good with kids," granddaughter Ariana Montgomery told KABC-TV. "She's really helpful and sweet."
The children were at lunch and were not in the classroom when Kennon strode onto campus without signing in at 11:15 a.m., said Justin Grayson, spokesman for the Riverside Unified School District.
Madison Barber-Alvarez said she and her classmates were kept in their classroom for two hours before being taken to the park.
"I felt like that this is so terrifying. I thought this going to be my worst nightmare I've ever had," the 12-year-old said.
"We were praying that we're going to be OK," she said.
All were safely accounted for. The district canceled classes at the school for the rest of the week.