Police Evict Occupy Boston Protesters; 46 Arrested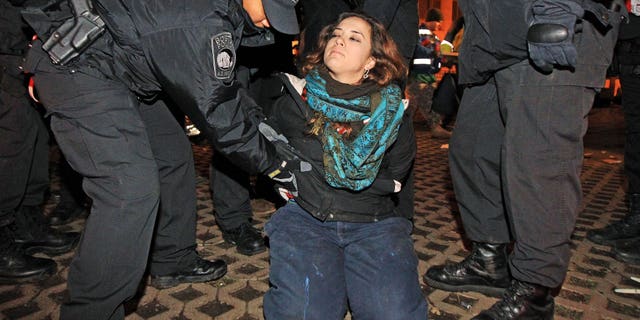 BOSTON -- Police officers swept through Dewey Square early Saturday, tearing down tents at the Occupy Boston encampment and arresting dozens of protesters, bringing a peaceful end to the 10-week demonstration.
Officers began moving into the encampment at about 5 a.m. to "ensure compliance with the trespassing law," police spokeswoman Elaine Driscoll said. The city had set a deadline for midnight Thursday for the protesters to abandon the site but police took no action until early Saturday, making Boston the latest city where officials moved to oust protesters demonstrating against what they call corporate greed and economic injustice.
As the officers moved in, about two dozen demonstrators linked arms and sat down in nonviolent protest and police soon began arresting them, according to the Boston Globe.
The protesters were "very accommodating" to the officers, Driscoll said. Forty-six people were arrested on charges of trespassing and disorderly conduct, police said. No injuries were reported.
The entire operation lasted less than an hour. Crews then entered the area to begin cleaning it.
Protesters first erected the encampment on Sept. 30. Many pulled up stakes and left the encampment Thursday after learning of the midnight deadline Mayor Thomas Menino had set for them to leave the square, but others stayed, and some said they were prepared to be arrested.
While Menino previously had said the city had no plans to forcibly remove the encampment, he appeared to become increasingly impatient with the protesters in recent days, saying the occupation had become a public health and safety hazard. He issued his ultimatum after a judge ruled on Wednesday that the protesters had no right to stay in Dewey Square.
Protesters estimate that 100 to 150 activists lived in the Boston encampment. Demonstrators were forcibly removed from similar encampments in New York City, Los Angeles, Philadelphia and San Francisco.