Police dog dies after being shot breaking up burglary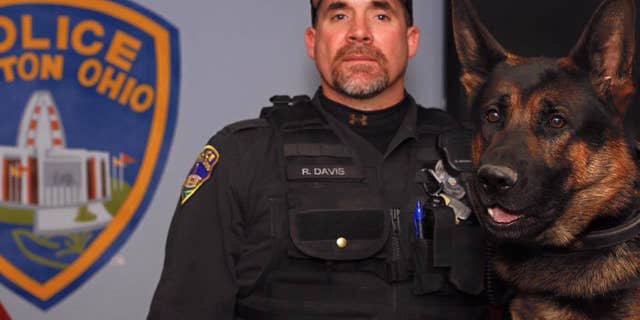 An Ohio police dog who was shot several times during a weekend burglary died Sunday morning.
The dog, Jethro, was shot around 1 a.m. Saturday as he approached a suspect attempting to rob Fisher Foods in Canton, WKYC reported.
"There's not a doubt in my mind that that dog saved officers' lives today," Police Chief Bruce Lawver told the Canton Repository.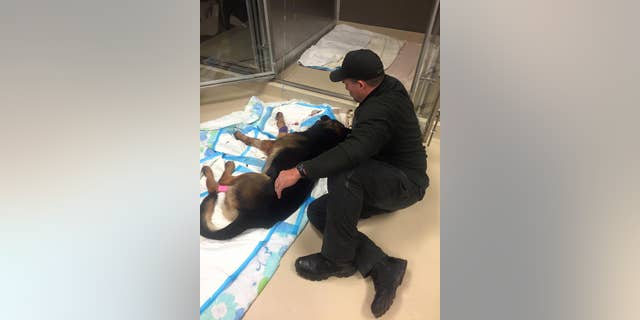 After Jethro was shot, a gunfight ensued during which the suspect, later identified by police as 22-year-old Kelontre Barefield, was wounded. Barefield was later found hiding near the store with a non-life-threatening bullet wound to the leg, police said. No cops were injured in the exchange.
Jethro wasn't as lucky.
Hit three times, veterinarians treated him for internal bleeding, according to WKYC. Swelling of Jethro's brain was a more immediate concern, however. The dog took a round to the bridge of his nose, the Police K-9 Association wrote in a post on its Facebook page. Though it did not penetrate, it "is the equivalent of getting hit in the forehead with a hammer."
Described in Facebook posts as "bullheaded" and a "tough guy," Jethro's recovery was complicated because he wouldn't rest early on, "trying to beat this thing the way he's used to, by fighting." But after receiving a sedative, Jethro finally got to sleep.
"There's not a doubt in my mind that that dog saved officers' lives today"
His condition initially seemed to improve early Sunday morning.
"Jethro rested through the night and hopefully today will keep progressing," the K-9 Association wrote on Facebook.
Just hours later, however, Jethro "took a sudden turn for the worse" and died.
Jethro, a 3-year-old who had been part of the force for about a year, according to FOX8, was not wearing a bulletproof vest. Dogs typically only wear a vest on "gun-specific calls," Officer Eric Stanbro told the Repository.
"For the more serious shots, the vest wouldn't have helped him anyway," Stanbro said.