Police: Detroit-area bank hostage situation ends peacefully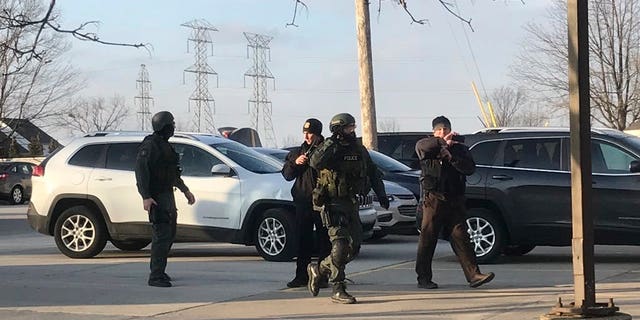 NEWYou can now listen to Fox News articles!
CANTON TOWNSHIP, Mich. – A hostage situation at a suburban Detroit bank lasted more than four hours Thursday before ending peacefully with a suspect in custody, authorities said.
A man armed with a handgun who had announced a robbery surrendered after releasing his hostages Thursday evening, said Joshua Meier, director of public safety for Canton Township.
"When officers arrived on scene, the suspect had barricaded himself inside the bank along with an undisclosed number of hostages," Meier said at a news conference.
Earlier Thursday, township police spokeswoman Barb Caruso said the suspect had released three hostages.
Meier did not disclose the suspect's name or any criminal charges he might face. He said the incident remains under investigation by police and the FBI.
The drama unfolded at a Citizens Bank branch in Canton Township, 30 miles west of Detroit.
"Sir, if you come out, no one will get hurt. We just want to talk to you," an officer with a megaphone said during the standoff.
Power went out at the bank, but it wasn't cut by police, Caruso said.
Some roads surrounding the bank were closed to traffic, and police asked residents to avoid the area. The incident began around 3 p.m.
"I watched two ladies run out the side and a cop took them to safety," witness Hanna Gocaj said.
Rose's Restaurant next door to the bank was evacuated by owner Richard Costantino, who called it a "tense" situation.
"They have a good lockdown on it," he said of police, "and we evacuated the restaurant for the safety of our patrons and canceled our reservations."