Police chief's son, 18, charged with beating elderly Sikh man, smiles, flips bird in court: reports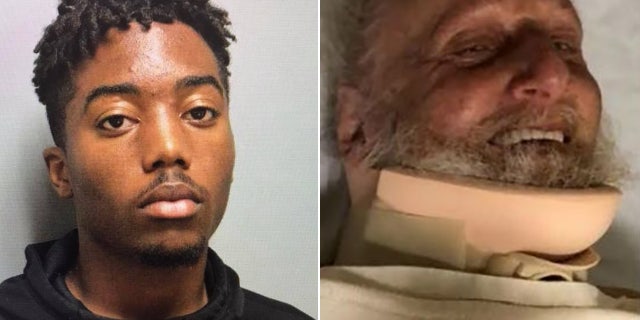 The 18-year-old son of a police chief in California's Bay Area, who allegedly attacked a 71-year-old Sikh man, appeared in court Friday, smiling and waving his middle fingers at media cameras, a report said.
Tyrone Keith McAllister, estranged son of Union City police Chief Darryl McAllister, entered the courtroom and flipped his middle fingers at their camera, Sacramento's FOX 40 reported.
He appeared to be grinning, and made suspected gang signs while his hands were cuffed, the Record of Stockton reported.
"[W]ords can barely describe how embarrassed, dejected, and hurt my wife, daughters, and I feel right now," the chief wrote on Facebook. He also wrote that his son, who has spent time in both juvenile and adult jail, needs to be held accountable for his actions.
The younger McAllister and a 16-year-old companion allegedly confronted Sahib Singh Natt while he was taking a stroll in Manteca, near Stockton in the Central Valley, on Monday at about 6 a.m., and asked him for money.
Authorities said the pair kicked Natt to the ground. Police said the video shows the suspect kick him at least three times and that one of the suspects may have waved a gun.
The police chief and his wife worked with local police to track down their son and the 16-year-old. The pair were arrested Wednesday on one count of attempted robbery, elder abuse and assault with a deadly weapon.
Investigators were still looking into whether the attack meets the legal criteria for charging a hate crime, the Record reported.
"As to whether it was just a crime or a hate crime, I'm of the opinion that at this point, looking at the videos, that it's just a crime committed by some young people," Bobby Bivens, president of the Stockton branch of the NAACP, told FOX 40.
Bail wasn't set during the arraignment. McAllister was scheduled appear again Aug. 17.
Fox News' Edmund DeMarche contributed to this report.