Police announce arrest in shooting death at Charlotte riot
Charlotte police announced the arrest of a suspect in Wednesday's fatal shooting of a protester, a killing witnesses initially insisted was carried out by police.
Rayquan Borum, 21, was charged Friday morning in shooting death of Justin Carr, who died a day after being shot during protests in Trade Street, Charlotte-Mecklenberg Police Chief Kerr Putney said.
Putney said surveillance footage supplied by buildings in the area helped identify the suspect. The shooting occurred Wednesday night, and Charlotte police initially said the man had died, although he survived on life support until Thursday. Witnesses gave conflicting accounts about who shot him, with some insisting they saw police gun him down with rubber bullets, while others said he was killed by a fellow protester.
"I am very pleased to see someone in custody", North Carolina Gov. Pat McCrory said Friday. I'm convinced… that no one in law enforcement was involved at all"
The incident came as police clashed with rioters on the second night of demonstrations in the wake of a police officer's shooting of a black man. The night began with a prayer vigil but then erupted with violence and police firing tear gas at angry protesters. McCrory declared a state of emergency in the city.
"There are groups that are coming into our state that are here to cause anarchy" McCrory said. "We will not accept it. We will not tolerate it."
Seven police officers required medical treatment after Wednesday night's rioting. Video posted online showed rioters kicking and beating a white man in a parking garage, and shouting racial epithets.
Carr, 26, was shot as police in riot gear massed to bar protesters from storming an upscale downtown hotel. The protesters had gathered after Tuesday's shooting of 43-year-old Keith Lamont Scott. Police say Scott was shot by Police officer Brently Vinson after he disregarded repeated demands to drop his gun, while neighborhood residents say he was holding a book, not a weapon, as he waited for his son to get off the school bus.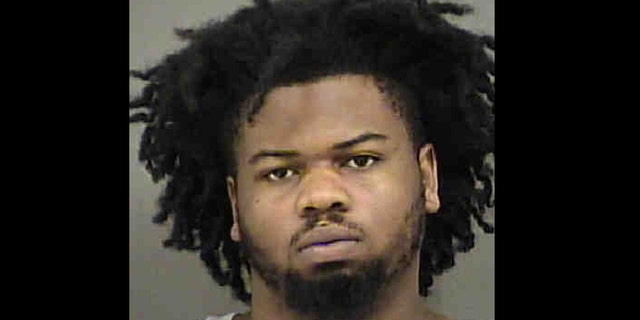 The shooting has exposed racial tensions, although Vinson is African-American.
Two police videos, one from dashboard camera and the other from an officer's body camera, show Scott's death. Police allowed Scott's family to view the videos Wednesday but have not released them publicly.
Charlotte Mayor Jennifer Roberts said during a news conference Friday she believes the video of the shooting should be released publicly, but added that it's a matter of when.
Putney echoed her remarks, saying the video's release is "a matter of when, it's a matter of sequence."
Putney added that he cannot release more information about the shooting because his department is not leading the investigation, which is being conducted by the State Bureau of Investigation.
Protests Thursday night were mostly peaceful.
"Last night was what a lawful demonstration looks like," Mayor Jennifer Roberts said Friday. "We are working to return to normalcy."
Two major employers in downtown Charlotte -- Duke Energy and Wells Fargo -- had their employees back at work Friday, but Bank of America told its workers to stay home again.
Charlotte police also released details Friday on charges against five people in the protests earlier in the week.
Police spokeswoman Cindy Wallace said in a statement that 19-year-old Ian Bowzer is charged with kicking in doors of the Hyatt Hotel downtown Thursday. Bowzer was arrested and charged with injury to real property.
Forty-nine-year-old Daniel Baker is accused of breaking into a downtown restaurant. Baker was arrested and charged with breaking and entering and larceny after breaking and entering.
It wasn't known if the men have attorneys.
Officers have warrants for two other people in that restaurant break-in. They are also charged with breaking and entering, larceny after breaking and entering and conspiracy. Another man faces similar charges for a break-in at another downtown restaurant Tuesday.
Meanwhile, organizers are planning weekend protests in Atlanta as a response to the police shooting deaths of Terence Crutch in Tulsa, Oklahoma, and Scott in Charlotte.
On Friday, the Georgia NAACP is holding a rally and sit-in. According to the Georgia NAACP Facebook page, the group will meet downtown and march at 7 p.m. to the Martin Luther King Jr. Historical site, before marching to an undisclosed location to rally and sit-in.
The "ATL Silent Protest" is planned for Saturday. Organizer Steven Chatman tells WXIA-TV that instead of chanting and yelling as they did at July protests, protesters will remain silent.
The Associated Press contributed to this report.