Police: 5 Dead in Multi-Vehicle Crash in Colorado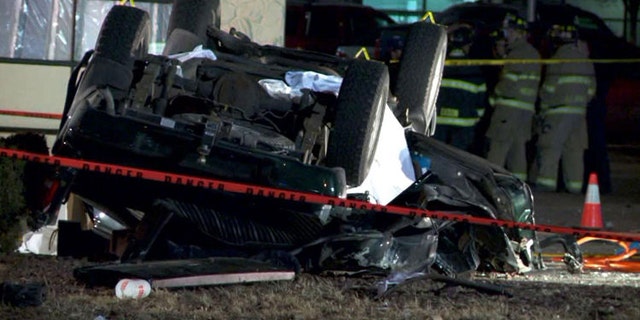 THORNTON, Colo. – Police in suburban Denver were investigating Friday why an SUV careened through rush-hour traffic, triggering a crash that killed five people and injured five others.
The SUV slammed into a car and went airborne, landing on top of a pickup truck Thursday evening. All five people -- believed to be a mother, father and their children -- inside the truck were killed, the Adams County coroner's office said.
The crash occurred as a Ford Expedition -- with a woman and two children inside -- headed south on a major thoroughfare north of Denver, Thornton police spokesman Matt Barnes said.
He said witnesses told police that the SUV was being driven erratically and crossed into the northbound lanes. The vehicle then traveled into an intersection where it hit the rear end of a Mazda sedan, struck the median and then hurtled through the air, landing on top of the pickup, Barnes said.
The SUV then smashed into a mattress store, slightly injuring one person inside from flying glass and causing extensive damage to the building.
The woman and children in the SUV and a man who was alone in the Mazda were hospitalized. Barnes said he didn't have any details on their conditions.
KUSA-TV reported that investigators initially believed four people died, but found a fifth body in the truck a few hours after the accident.
"I won't ever forget that sound," Chrissy Pena told The Denver Post, describing the noise of the crash, shattering glass and crunching metal.
"I'm still shaking," she said as she and dozens of others stood some 200 feet away from the wreckage.
Barnes said investigators were trying to determine what set off the crash. Names of the dead and injured were not immediately released.