Planned Muslim cemetery, mosque face opposition in Georgia community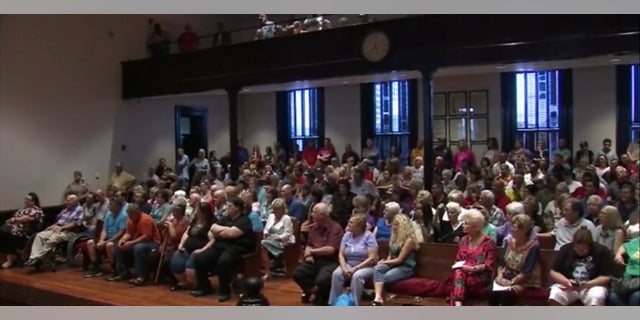 Hundreds of people in Georgia attended a forum Monday night voicing concerns over a mosque and Muslim cemetery planned for Newton County -- a plan that officials reportedly approved without any public input.
Fox5Atlanta.com reported that the area of land essentially amounted to a compound. The complaints included fears the land could ultimately be used as a terror training camp. Other people cited the tradition of Muslims traditionally burying their dead unembalmed.
"I would like to say that there is no camp, everyone will have access," Imam Mohammad Islam told the news station. He said the plans call for a 4,000-square-foot mosque with a 2,500-square-foot preparation center.
His congregation includes mostly Bangladeshi Muslims, the news station reported. The imam did not rule out expanding to a new school in the neighborhood in the future.
Some members of the community expressed disappointment that the imam did not attend the meeting to discuss the plans.
"If they want to assimilate into our community, where are they at tonight?" one man asked. "Mr. Imam, come and talk to us."
The station reported that it tried to get a response from city officials who worked on the project but several commissioners refused to comment.
Newton County is about 40 minutes southeast of Atlanta.
Click for more from Fox5Atlanta.com