Plane aiding search for missing Marines reportedly hit by green laser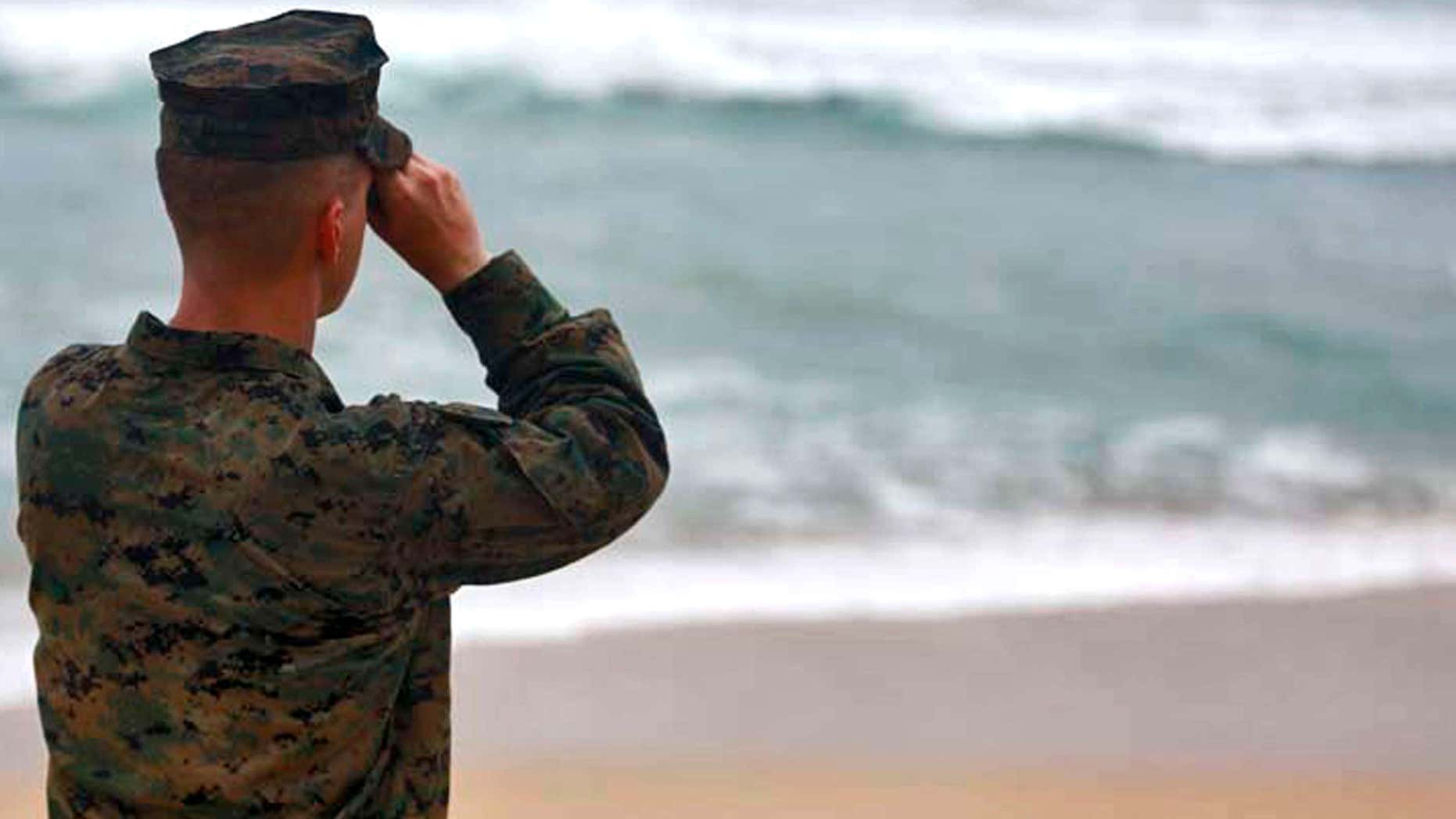 A plane aiding in the search for 12 missing Marines, whose helicopters crashed off the Hawaiian island of Oahu, was reportedly hit with a laser Saturday forcing it to alter its course.
A Coast Guard spokeswoman told the Honolulu Star-Advertiser that if crew members had been directly exposed to the green laser, the C-130 Hercules would've had to make an emergency landing and the crew would've been examined.
Laser exposure could cause temporary blindness. Pointing a laser an aircraft is a federal crime.
Officials released the names of the 12 missing Marines late Saturday whose choppers crashed on Thursday. The names of the Marines are:
— Maj. Shawn M. Campbell, 41, College Station, Texas.
— Capt. Brian T. Kennedy, 31, Philadelphia, Pennsylvania.
— Capt. Kevin T. Roche, 30, St. Louis, Missouri.
— Capt. Steven R. Torbert, 29, Florence, Alabama.
— Sgt. Dillon J. Semolina, 24,Chaska, Minnesota.
— Sgt. Adam C. Schoeller, 25, Gardners, Pennsylvania.
— Sgt. Jeffrey A. Sempler, 22, Woodruff, South Carolina.
— Sgt. William J. Turner, 25, Florala, Alabama.
— Cpl. Matthew R. Drown, 23, Spring, Texas.
— Cpl. Thomas J. Jardas, 22, Fort Myers, Florida.
— Cpl. Christopher J. Orlando, 23, Hingham, Massachusetts.
— Lance Cpl. Ty L. Hart, 21, Aumsville, Oregon.
The family of Cpl. Christopher Orlando of Hingham, Massachusetts, said it was grateful for people's prayers. "We continue to monitor the ongoing search effort in Hawaii and are thankful for the hard work of the many federal and local heroes undertaking this search and rescue mission," the family said in a statement released by the Massachusetts State Police.
Ty Hart, a 21-year-old from Oregon, was in one of the helicopters, the Oregonian reported Friday night. The newspaper said Hart lives on base in Hawaii with his wife.
Hart's former high school football coach and teacher, Alan Kirby, described Hart as a positive kid who always had a smile on his face and called him a quick learner on the gridiron.
The family of Capt. Kevin Roche believes he was one of the Marines aboard the helicopters.
"We believe the Marines and Coast Guard are doing everything they can to bring Kevin and his fellow Marines home safely, and we are grateful to everyone involved in the rescue," said a family statement distributed by brother-in-law Anthony Kuenzel in St. Louis.
A Coast Guard official was notified of the crash by a civilian who saw the aircraft flying then disappear into a fireball. Someone else reported seeing a flare in the sky, Coast Guard spokesman Lt. Scott Carr said. It's unclear if the fireball and the flare were related.
The Marines were alerted when the CH-53E helicopters carrying six crew members each failed to return to their base at Kaneohe Bay following a nighttime training mission. Hours later, a Coast Guard helicopter and C-130 airplane spotted debris 2 1/2 miles off of Oahu.
A Navy P-3 airplane was scouring the ocean, along with helicopters from the Coast Guard, Army, Navy and Honolulu police and fire departments. Two Navy warships and two Coast Guard cutters were on the scene. Honolulu lifeguards on personal watercraft were also looking.
The Coast Guard was keeping people out of a wide zone that spanned about 30 miles of shoreline, citing danger from debris. The zone extended from the shore to 8 miles off the coast.
Saturday's search efforts were severely hampered by high waves that topped 30 feet high.
National Weather Service meteorologist Derek Wroe said Saturday that the surf peaked Friday afternoon and was slowly declining.
A storm about 1,500 miles to the north and northwest of Oahu was sending large swells to the islands, he said.
The Associated Press contributed to this report.