Pianist's wife sought mental help before kids' deaths, cops say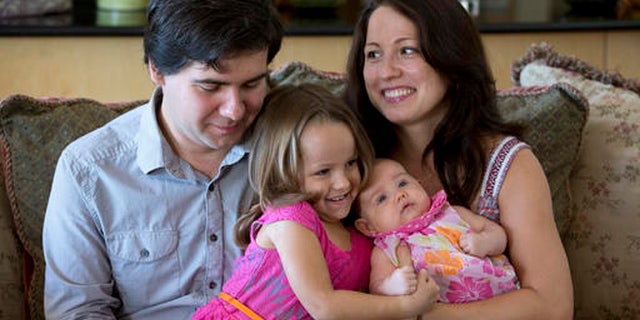 FORT WORTH, Texas – The estranged wife of internationally renowned pianist Vadym Kholodenko sought mental treatment the day before their two young daughters were found dead in the family's North Texas home, police said Tuesday.
Sofya Tsygankova is accused of capital murder in the deaths of 5-year-old Nika Kholodenko and 1-year-old Michela Kholodenko.
Vadym Kholodenko called police Thursday after arriving at the family's home in Benbrook, Texas, and finding the two girls, according to an arrest warrant affidavit released Tuesday.
Tsygankova was kneeling on the floor wearing a blood-stained nightgown and "rocking back and forth," the affidavit says. She had wounds on her wrist and chest, and a butcher knife was found near the home's patio.
An empty bottle labeled with her name and the anti-psychotic drug Quetiapine was found on the kitchen counter, police said. Authorities later learned she had visited a mental health facility the day before.
Tsygankova was first taken to a Fort Worth hospital, where, according to the affidavit, she told police she remembered putting her 5-year-old daughter to sleep and seeing her 1-year-old daughter asleep in her crib. Autopsies are still pending for both girls.
She also told police she remembered taking pills and believed she hurt herself with a knife, but asked the officers if she had done "anything bad" to the girls.
Tsygankova was booked Tuesday into the Tarrant County jail.
Her attorney, Joetta Keene, said she plans to plead not guilty on behalf of Tsygankova at an arraignment hearing Wednesday. Keene declined to comment on the specific allegations of the affidavit.
"This is, no doubt, a very heartbreaking case for everyone involved," she said.
The Ukranian-born Kholodenko won the prestigious Van Cliburn International Piano Competition in Fort Worth in 2013, beating nearly 30 finalists from 12 countries. He and Tsygankova were married in 2010 and filed for divorce last year. Kholodenko no longer lived at the home with Tsygankova and their daughters, but routinely picked up the children from the home in the mornings.
According to the affidavit, Kholodenko had called Wednesday night and spoken to 5-year-old Nika. He and Tsygankova agreed he would pick Nika up the next morning and take her to school.
The girls were buried Monday at a private service. A memorial service was scheduled for Tuesday night.