Phoenix firefighters use 'Jaws of Life' to free horse abandoned in wrecked trailer
NEWYou can now listen to Fox News articles!
Fire crews in Arizona's largest city used the "Jaws of Life" in a desperate effort to free an injured horse discovered inside an abandoned trailer Saturday.
The Phoenix Fire Department said the horse was found trapped upside-down, with its head on the ground behind the trailer hitch.
Fire crews believe the vehicle that was towing the trailer crashed, causing the horse to be pushed forward and break part of the rusted-out trailer, according to FOX10 Phoenix.
In videos posted by the fire department, crews can be seen using a hydraulic tool known as the "Jaws of Life" to cut away at the metal wreckage in order to free the horse.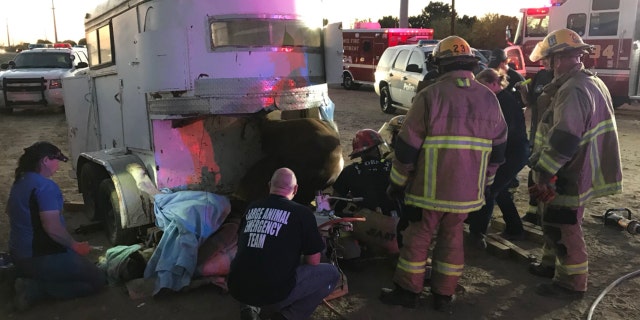 A veterinarian had sedated the animal before fire crews started work to free it.
PENNSYLVANIA STATE CREWS RESCUE GOATS STRANDED ON BRIDGE BEAM
The horse is now being treated for its injuries by the Arizona Equine Rescue Organization.
Phoenix Police told FOX10 they are now looking for the driver of the vehicle that was towing the trailer.