Phoenix Christmas lights display nixed over city demands, scrooge neighbors, homeowner says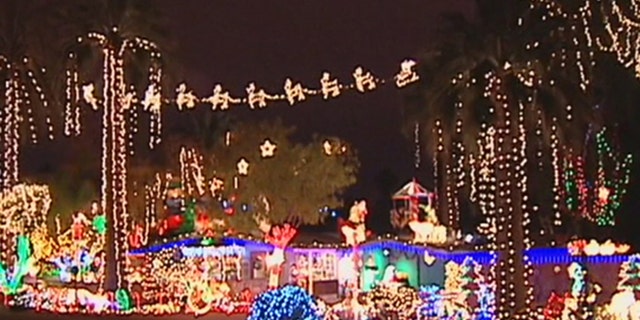 A Phoenix man who has been brightening up his neighborhood for more than three decades with an elaborate Christmas display says he's pulling the plug this year over an uproar that critics are calling "liberal overregulation at its finest."
Lee Sepanek's "Christmas House" draws thousands of visitors annually, but some homeowners around him complained to the city months ago, saying the attraction creates a traffic headache as crowds block driveways, AZFamily.com reports.
"It makes me sad, something I've done for over 30 years," Sepanek said.
A month ago, city officials met with Sepanek and suggested that he hire people to direct traffic in the Arcadia neighborhood and that he needs a permit to continue selling or giving away hot chocolate and cookies on his property.
"They told me that they can't stop me from decorating but if they have more complaints of blocked driveways, which I know will happen, they would come over and shut me down," he told AZFamily.com.
Sepanek says the food and drink sales are to help offset the annual cost of around $10,000 for hosting the display, which he never makes a profit from. But this year, it's not going to happen as the city's demands and neighbor complaints left him discouraged.
"They come here for free, and have a great time, but this year, not going to happen," Sepanek told Fox 10.
He has started a GoFundMe page to raise money for a lawyer to "fight city hall", and, according to AZFamily.com, some supporters in his neighborhood are planning to take his lights and decorations and spread them around seven homes instead.
"I'm gonna put up a big sign at the end of my driveway explaining what happened," Sepanek told the website.
The property usually has trees decorated from top to bottom and animatronic displays in the windows. Sepanek starts setting it up in October by testing lights from dozens of storage bins and aims to have it running every year by Thanksgiving.
But some residents who didn't want to be identified told Fox 10 that the light display also leaves trash in their yards and prevents them from hosting their own holiday parties. A police spokesperson contacted by KPNX said cops have gotten two complaints about it in the past five years.
"It's a little bit of a headache, but I wouldn't give up the Christmas House for it, I'll deal with the headache. It's Christmas," resident Dan Harris, in support of Sepanek, told Fox 10.
Sepanek has also found allies in local and state Republicans, who are comparing city officials and its Democratic mayor to the Grinch.
"This is bureaucratic, liberal overregulation at its finest," Arizona GOP Chariman Jonathan Lines said, according to KPNX. "A government and mayor that think they know better are trying to swoop in and control a neighborhood Christmas light display. Don't be a Grinch Mayor Stanton – listen to your constituents and have some holiday spirit!"
City Councilman Sal DiCiccio added that "city officials have officially replaced the Grinch and are looking to shut down a 30-year tradition in Phoenix.
"City officials need to relax and get a life," he said, "we have better things to do than to regulate Christmas tree displays."