Philly teen who died in truck crash hailed a hero for saving lives of passengers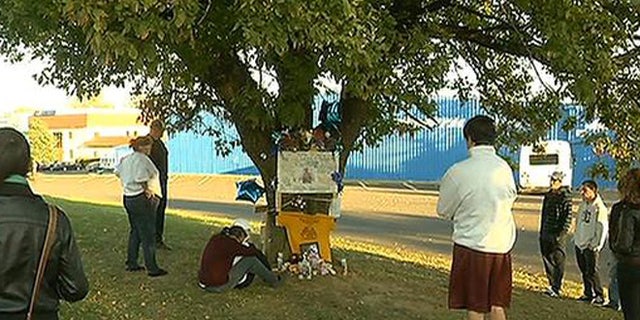 NEWYou can now listen to Fox News articles!
A 17-year-old Philadelphia teen who died in a truck crash is being called a hero for trying to steer the vehicle to safety after his stepfather blacked out behind the wheel.
Christopher Alvelo, his 45-year-old stepfather Joseph Snyder and three 15-year-old passengers were heading home Saturday after attending an Eagle Scouts community service project in Pennypack Park when Snyder had a medical emergency and lost control of the vehicle, police told the Associated Press.
Alvelo, who was sitting in the passenger side of the pickup truck, reached over to grab the wheel and was able to steer the vehicle off the road and into the parking lot of the North Philadelphia Jet Center, NBC 10 reports. But he couldn't reach the brake in time as the truck slammed into a rear of a parked paratransit bus, killing Alvelo instantly.
Snyder suffered a broken back, broken leg and fractured arm, and is in stable but critical condition at a local area hospital, Alvelo's aunt, Susan Foremski, told the Philadelphia Inquirer. The three teens who were Alvelo's fellow scouts are being treated for minor injuries and are expected to survive, police said.
Foremski told the newspaper that if Alvelo had not maneuvered the truck properly, it would have hit a tank full of heating oil.
"He saw his father was going to be in trouble, and he wanted to prevent the accident," she said. "It's such a tragedy, but he is a hero."
Alvelo's friends and classmates from the New Foundations Charter High School gathered Sunday at a memorial set up around the roads where he died, Fox 29 reports. Alvelo, a senior at the school, would have turned 18 in December and had aspirations of enlisting in the Air Force, according to NBC 10.
"He was a gentleman's gentleman," said Bill Schilling, the principal of the school. "You wanted him to be your son and date your daughter."
"Chris was supposed to be the first one walking down the aisle because he was the first, alphabetically, in our class," Savanna New, one of his classmates, told Fox 29.
Grief counselors will be at the New Foundations Charter High School on Monday and a vigil will be held at 7 p.m. to honor Alvelo, Fox 29 reports.