Philly mayor dances after sanctuary city ruling, despite past crimes in city tied to illegal immigrants
The Philadelphia mayor, blasted by the White House after being filmed dancing in celebration after a judge ruled in favor of its sanctuary city status, was doing so because it was an "important moment for all Philadelphians," his office said Friday, despite the city's recent history of illegal immigrant-related crime.
A video tweeted by Mayor James Kenney's deputy chief of staff showed him giddy after U.S. District Judge Michael Baylson ruled Wednesday that the Trump administration can't withhold grants to the city over policies that limit local law enforcement's cooperation with federal immigration officials.
"Mayor Kenney displayed excitement because it was an important moment for all Philadelphians, especially our immigrant community," Deana Gamble, his communications director, told Fox News on Friday.
'A SANCTUARY CITY': PHILADELPHIA MAYOR DANCES TO CELEBRATE COURT WIN AGAINST TRUMP
Gamble said the city's policies are designed to ensure individuals' constitutional rights are protected.
"Philadelphia does not protect or harbor criminals and the judge also found that Philadelphia has historically cooperated [with] federal law enforcement agencies in fighting crime, which is beyond dispute and widely known," she added.
Philadelphia previously has said it will only hand illegal immigrants over to Immigration and Customs Enforcement (ICE) agents if they show a warrant signed by a judge.
But ICE, as recently as May, have been carrying out operations in the Philadelphia metro region that it says target "criminal aliens, public safety threats, and individuals who have violated our nation's immigration laws."
"Many people in Philadelphia have been killed, raped or assaulted at the hands of criminal illegal aliens," White House spokesman Hogan Gidley told Fox News yesterday, calling Kenney's dance "disgusting."
Outside of the raids, illegal immigrants who have committed crimes or fugitives who have been deported from the Philadelphia area in recent years include:
Milton Mateo Garcia, who was sentenced in 2016 to up for 44 years in state prison after being convicted two years earlier of raping a young woman in Philadelphia's Center City neighborhood. Garcia, a restaurant kitchen worker from Honduras, came to be known as the "Rittenhouse rapist" after he grabbed a 26-year-old woman by her neck outside of her apartment and pushed her inside, where he sexually assaulted her. Federal officials at the time said Garcia, 28, had been living in Philadelphia illegally and had already been deported at least once before he targeted the woman. Following the announcement of the lengthy sentence, Philadelphia District Attorney Seth Williams said "Garcia does not belong on Philadelphia's streets and, as a result of today's sentencing, he won't be anymore."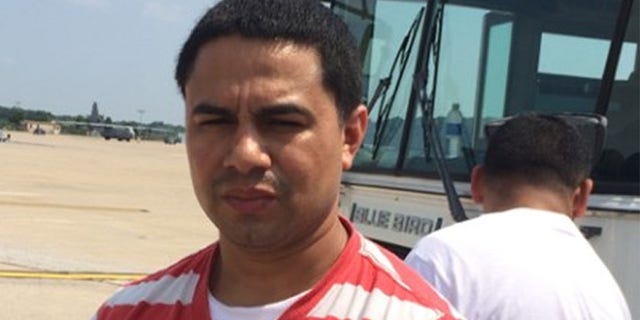 Darlin Navarro-Turcos, also from Honduras, who was sent back to the Central American country in 2015 after being convicted of assault in association with the stabbing death of a man on a Philadelphia street a year earlier. Navarro-Turcios, who had been going by the alias Darlin Mendoza-Sanders, served a year in jail over the attack and had entered the country illegally in March 2003, ICE said. Prior to the murder, he was convicted of driving under the influence. "The crime this criminal alien is associated with is heinous," said Tom Decker, director of ICE's Philadelphia Enforcement and Removal Operations office.
Edwin Estuardo Martinez-Ortega, who as an 18-year-old was deported from Philadelphia in 2014. Martinez-Ortega was identified by ICE as a fugitive wanted on murder charges in his native country of Guatemala, and was picked up by agents after they found him at a barber shop in Warminster, just north of Philadelphia. ICE said they were tracking his presence in the area after his brother Nectali Ortega-Duarte was arrested in 2011 and deported to Guatemala on charges linked to the same crime.
Federal authorities said they swept up 49 immigrants in the Philadelphia metro area in late May of this year during a "targeted enforcement operation" aimed at "criminal aliens, immigration fugitives, re-entrants, and other immigration violators."
"This operation resulted in multiple arrests of criminal aliens, public safety threats, and individuals who have violated our nation's immigration laws," Philadelphia Acting Field Office Director Gregory Brawley said after the sweep. "Some of these dangerous individuals had been released to the streets instead of being turned over to ICE on our detainers, which compromises the safety of the homeland that ICE officers strive to protect every day."
ICE did not reveal the identities of those taken into custody, but said they included a 52-year-old Mexican illegal immigrant who was charged with simple assault and terroristic threats, and a 26-year-old Haitian illegal immigrant who had been "convicted in the Common Pleas Court at Philadelphia, of robbery, possession of an instrument of crime, simple assault, and criminal attempt-theft by unlawful taking."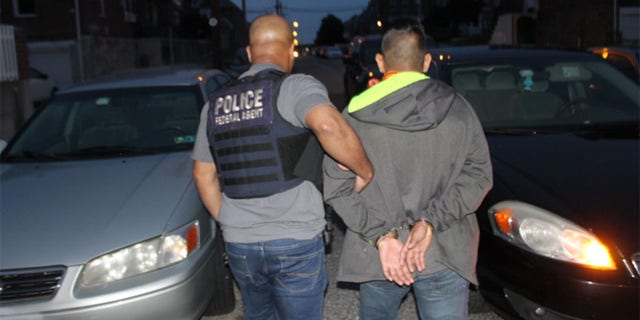 That sweep followed another one that happened in 2017, called Operation Safe City, in which agents across the country detained nearly 500 illegal immigrants in 10 sanctuary cities.
Philadelphia had the largest number of arrests in that raid with 107, in which ICE said they went after people who had committed sex crimes, sold drugs and possessed firearms, according to Philly.com.
THE VICTIMS 'AREN'T DANCING': PA REP BLASTS PHILLY MAYOR FOR CELEBRATING SANCTUARY CITY WIN
"Sanctuary city policies make it harder for our law enforcement officials to keep dangerous criminals off the streets," a spokesman for Sen. Pat Toomey, R-Pa., told Fox News on Friday. "We must continue this fight to keep our communities safe."
But critics said that raid against the city of Brotherly Love looked more like an act of revenge over its sanctuary status – and Kenney's lawsuit against Attorney General Jeff Sessions regarding the grant money dispute.
"I don't think it's a coincidence that Mayor Kenney sues Jeff Sessions last month, and then Philadelphia gets hit," Peter Pedemonti, director of the New Sanctuary Movement of Philadelphia, an immigration rights group, told Philly.com. "It's retaliatory."
"Operation Safe City does not make our city safer and further sows seeds of distrust between our police and immigrants," the website also quoted Kenney as saying at the time.