Philadelphia vandals seen trashing gas station after Eagles Super Bowl win
Philadelphia police are asking for help identifying the people who turned a Super Bowl celebration into a night of raucous destruction ahead of the city's massive parade Thursday.
Police released video on Tuesday showing vandals trashing a gas station in South Philadelphia in the hours after the Eagles defeated the New England Patriots in Super Bowl LII.
Footage from the Sunoco on South Broad Street shows the crowd storm the gas station around 12:30 a.m. Monday, throwing food items and soft drinks on the floor and walls of the building.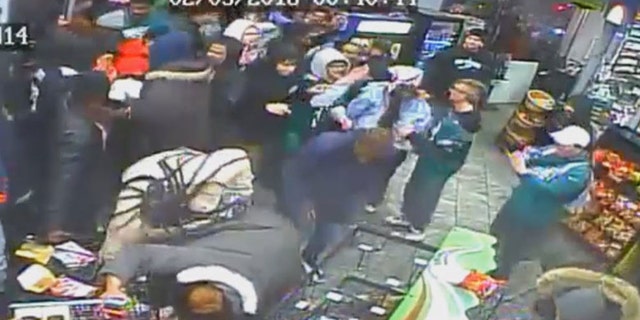 The vandals are seen knocking over displays, and even made a hole in the back wall, police said.
"They acted like complete and utter idiots and we are coming after those folks. You better believe it," Philadelphia Police Commissioner Richard Ross told FOX29.
Police also released photos of two men who allegedly used a metal pole to break a window on an A.C. Moore Arts and Crafts store on South Broad Street around 12:30 a.m. In that incident, police said the store sustained about $4,000 worth of property damage.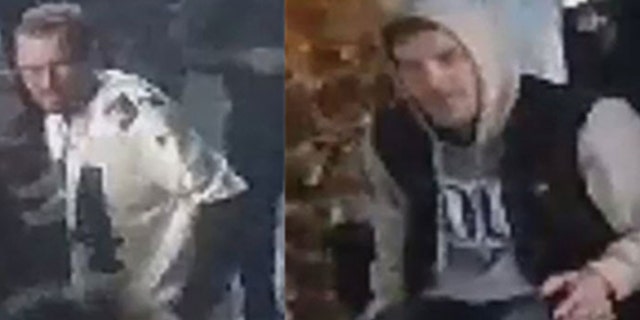 SUPER BOWL CELEBRATION IN PHILADELPHIA TURNS ROWDY AFTER EAGLES WIN CHAMPIONSHIP
Unruly Eagles fans climbed light poles, took trust falls off a hotel canopy, flipped cars, busted store windows, ate horse dung and even streaked down city streets shortly after their team won the Super Bowl for the first time.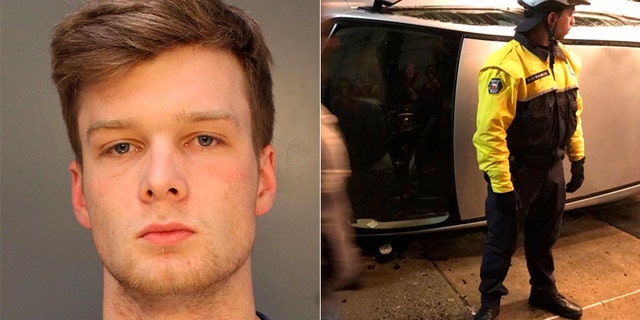 Police said Wednesday a 20-year-old man was arrested and charged for allegedly helping to flip an SUV on Walnut Street after the game. John Rigsby of Malvern was charged with vandalism for his role in helping to flip the vehicle, which sustained scratches and dents to side doors, FOX29 reported.
The images and video released from the rowdy celebrations come amid preparations for the city's parade Thursday to honor the Eagles.
The city announced the Super Bowl parade will start at 11 a.m. at Broad Street near Lincoln Financial Field, where the team plays. It will move north along the city's main thoroughfare, past City Hall and finish at the art museum's "Rocky Steps." The National Weather Service said Thursday will be mostly sunny with a high of 34 degrees.
"It's a different thing in that you're talking about large crowds, but they're primarily stationary where they are," Ross told FOX29.
PHILADELPHIA EAGLES WHO PLAN TO SKIP THE WHITE HOUSE SUPER BOWL VISIT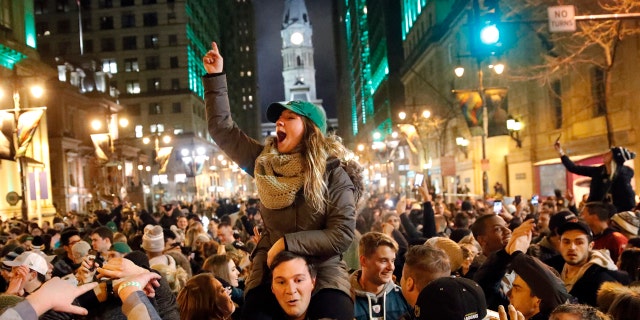 Police are planning for a turnout of as many as three million people along the parade route.
Revelers along the parade route will be able to indulge in free Bud Light at two dozen bars, thanks to a promise the beer maker made to Eagles offensive tackle Lane Johnson before the season.