Philadelphia Condom Campaign Targets Kids as Young as 11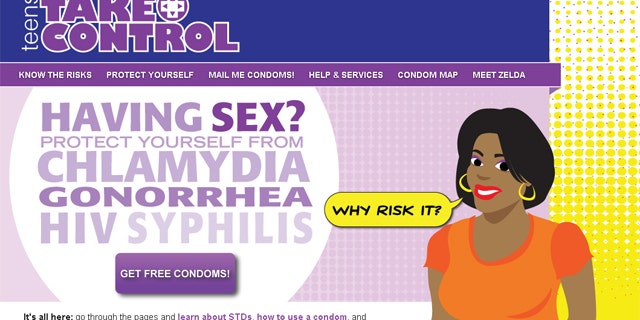 NEWYou can now listen to Fox News articles!
A new campaign by Philadelphia officials to reduce sexually transmitted diseases allows children as young as 11 to receive free condoms via mail order, outraging some parents who believe that's too early to start getting physical.
The program, offered by the city's Department of Health, features a website that includes facts on diseases like Chlamydia, gonorrhea and HIV/AIDS, as well as detailed -- and playful -- instructions for young girls on how to use female condoms.
"Every girl is different," TakeControlPhilly.org reads. "Figure out what position works for you. You can stand with one foot on a chair, sit on the edge of a chair, lie down, squat, or for fun, have your partner help you out."
The website, which instructs visitors to use condoms "each and every time," also provides an interface where users can request free male condoms mailed directly to their doorstep.
"Playing it safe just got easier," the website reads. "If you live in Philadelphia and are between the ages of 11 and 19, you can now have condoms mailed directly to you for FREE. Maybe it's difficult for you to stop by one of our sites to pick up condoms. Or maybe you're just shy or feeling weird about picking up condoms."
Jeff Moran, a spokesman for Philadelphia's Department of Health, said the campaign was launched last week. No complaints had been received as of today, he said.
Philadelphia Mayor Michael Nutter unveiled the campaign on April 7 as he announced the winning design for the city's custom-labeled condom wrapper.
Recent national data indicates that Philadelphia has one of the highest rates of STDs among comparable cities, with African-Americans and adolescents being disproportionately affected, according to city officials. And a 2009 Youth Risk Behavior Survey found that 37 percent of sexually active Philadelphia high school students did not use a condom during their last sexual encounter.
The rate of teen pregnancy has dropped by roughly 40 percent during the past 20 years, but approximately 1,100 teenagers still give birth every day, or more than 400,000 annually, according to the Centers for Disease Control and Prevention (CDC).
While giving away condoms to children as young as 11 might "seem a little young" to Kevin Burns, executive director of Action AIDS, a health clinic in Philadelphia listed on TakeControlPhilly.org, he said the free condom program is appropriate.
"I think it is," he told FoxNews.com. "If children are old enough to be having sex, which they are in that age range [ages 11-19], they need to have protection."
Burns said his clinic has assisted patients as young as 13, many of whom contact health care providers via phone.
"An 11-year-old is too young to be having sex, but does that mean 11-year-olds are not doing it? No," Burns continued. "Let's start first with why are they becoming sexually active so young and try to educate them about the risks of that."
To that end, Burns said abstinence should be part of any pregnancy-prevention campaign.
"Abstinence is one end of the continuum and we certainly want to encourage kids to be abstinent, but for the kids who are not, we want to educate them," he said. "Abstinence is certainly one end of the continuum, but abstinence-only programs don't work."
One parent in Philadelphia, however, told the Philadelphia Daily News that sending condoms to kids as young as 11 -- perhaps without their parents' knowledge -- isn't responsible.
"As a parent, I am personally outraged," the unidentified parent told the newspaper. "What's the back story on this campaign? What is it telling our youth? I get the sex-education thing for kids in schools, but mail-order condoms for 11-year-olds? It's shocking to me."