Petition seeks full honors military funeral for hero Florida JROTC student
The Parkland community is petitioning the government to give a full honors military funeral to the slain 15-year-old junior Cadet student who helped students flee danger during the Florida school shooting last week.
Peter Wang died in his junior ROTC uniform helping students, teachers and staff escape from the shooting rampage at the Marjory Stoneman Douglas High School. Seventeen students and teachers died.
Lin Chen, Wang's cousin, told The Sun-Sentinel that she was not surprised to learn of his actions.
"He is so brave. He is the person who is genuinely kind to everyone," she told the publication. "He doesn't care about popularity. He always liked to cheer people up. He is like the big brother everyone wished they had."
Jesse Pan, a neighbor, told the paper that Wang was "very polite, smart" and hoped one day to attend West Point military academy to be of "service to our country."
An online petition started on Friday urges Congress to honor Wang a burial fit for a military hero.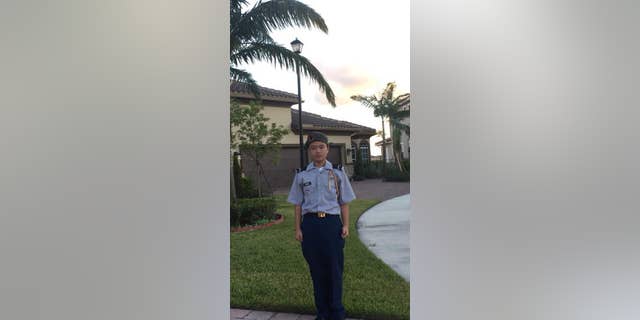 "Peter Wang, 15, was one of the students killed in Florida this past week. He was a JROTC Cadet who was last seen, in uniform, holding doors open and thus allowing other students, teachers, and staff to flee to safety," the petition states. "Wang was killed in the process. His selfless and heroic actions have led to the survival of dozens in the area. Wang died a hero, and deserves to be treated as such, and deserves a full honors military burial."
JROTC does not provide basic training so it does not count as "being in the military." Wang's funeral would require intervention from the government.
The petition so far attracted nearly 20,000 signatures by Monday morning. It needs to gather 100,000 signatures by March 18 to get a response from the White House.