Pennsylvania veteran turns big trash into big business
Jerry "JDog" Flanagan always wanted to go to college. But, growing up poor outside of Philadelphia with an alcoholic father and a working mother, he knew it wasn't financially possible.
"I was not a good school student," Flanagan told Fox News. "I really didn't have any direction, my work ethic was not that great… I found myself having to go into the military to really set my life straight."
He enlisted in the Army for two years and was discharged in 1989. Flanagan tried college thanks to the GI Bill but dropped out when he ran out of money. Jumping job to job, from dishwasher to gas station cashier, Flanagan learned the ropes in retail, eventually opening up his own string of businesses. When the recession hit, Flanagan threw in the towel. Scrambling to start the next chapter, he did some research.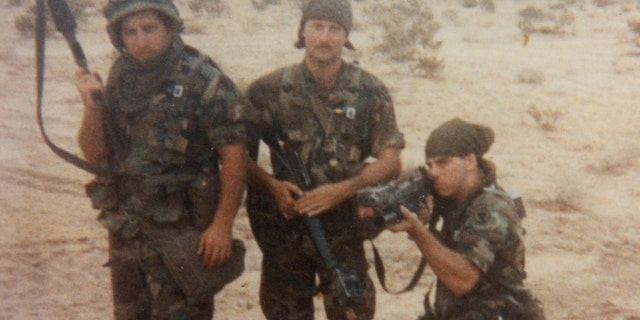 "I was definitely interested in doing something that didn't require inventory, it did not rely on the economy to be strong. And when I researched junk removal it was a recession-proof business," says Flanagan.
In 2011, Flanagan and his wife bought a jeep, took to the streets and tried to drum up business for JDog Junk Removal and Hauling. Embracing his military ethos of hard work, respect and integrity, the customers kept calling.
"Our military values show the customers we care about their property and their projects. People want to support the military, it's an American, veteran-owned concept and the customers are getting behind it," says Flanagan.
ARMY VETERAN, 71, GRADUATES HIGH SCHOOL 52 YEARS LATER
As business took off, Flanagan's mission changed. Seeing an opportunity to give back to his fellow brothers in arms, Flanagan teamed up with the Veteran's Association to hire vets.
"You have to be a military family member exclusively or you have to be a military veteran in order to qualify to be awarded a territory," says Flanagan.
"I can't say enough about how much it means to us as a family and how much it's impacted our life," says Kyle Gagnon, whose father is a military vet. The family purchased a JDog franchise last year in upstate New York. "If it wasn't for JDog, I really don't know what I would be doing with my life. I am thankful for the opportunity they offered us and his ongoing support and making our business successful."
AIR FORCE MASTER SERGEANT FINDS PEACE THROUGH PHOTOGRAPHY
Now in 2017, Flanagan has more than 200 military vets and their families working under the JDog brand. This year alone, he hopes to bust into more than 75 new territories, which would take him past 200 in all.
"Providing successful opportunities to veterans is my mission…we will be able to put five to ten thousand veterans into small business ownership or a great career," he said.
Be sure to watch Flanagan's full story above.