Pennsylvania dog missing for 10 years reunites with family
Carly Suierveld was upset when her dog, Abby, went missing from her Pennsylvania home.
She spent days looking for her Abby, a lab mix who was four or five months old when she ran off in 2007, her mother told Fox News. Devastated, she finally ended her search and assumed the puppy died. The family bought another dog and moved on.
She was 12 when that happened. Now 22 and a college student, she was surprised, her mother said, when she got a call she was not expecting. Her beloved dog that disappeared a decade before suddenly turned up at an animal shelter. The dog was unharmed and, apart from some graying hair, looked exactly that same.
Debra Suierveld got the call from Allegheny Animal Shelter in New Kensington, Penn on Jan. 29. Officials there said they found the dog through her implanted chip.
She didn't even know how to react to the shocking news.
"She laughed so hard it sounded like she was crying," Debra Suierveld said about her daughter.
Days before, about 10 miles away from the Suierveld home, George Speiring said he opened the door to his home and spotted a lab mix on his porch.
He said he called police and the dog, which turned out to be Abby, eventually ended up at the animal shelter. The animal shelter then found the chip that connected Abby to her rightful owner.
Abby looked almost like she never left home, aside from graying hair and a benign tumor.
"Her teeth are in good shape, her paws are in good shape," Debra Suierveld said. "Somebody took very good care of her."
Abby even still has many of the same habits, like crossing her paws and drinking out of the toilet.
"We'd always have to be careful to have that seat down," she said.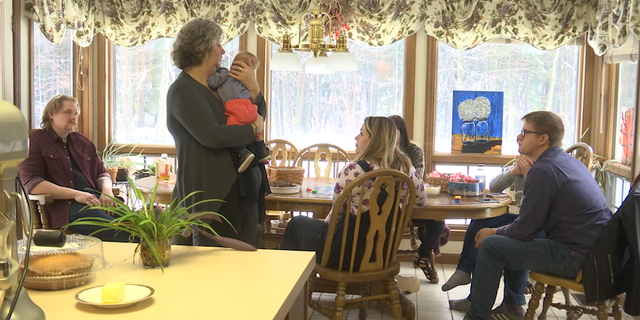 The family said it doesn't know where Abby was for 10 years, and will likely never find out.
This past weekend, the family held a welcome home dinner for Abby. Seven family members spanning three generations came together for a pot roast where many members of the family played with Abby for the first time since she had gone missing.
Abby, the only dog before she ran off, came home to a house with two other dogs.
"We have a retirement home for dogs," Debra Suierveld said.