Pennsylvania boy who served as dad's best man at wedding dies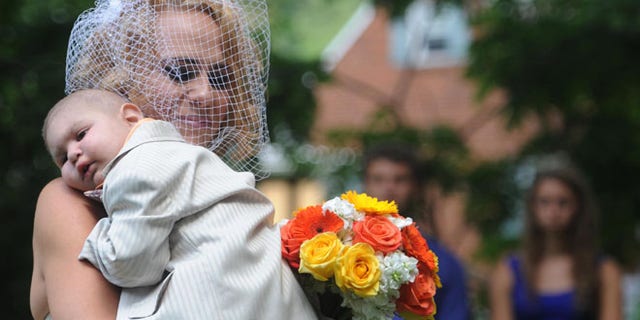 PITTSBURGH – The mother of a terminally ill 2-year-old western Pennsylvania boy who served as his parents' best man at their wedding says he has died.
Christine Swidorsky Stevenson says on her Facebook page that little Logan Stevenson died in her arms at 8:18 p.m. Monday at the home she shared with the boy's father, Sean Stevenson, whom she married on Saturday. The couple live in Jeannette, about 25 miles east of Pittsburgh.
A family spokeswoman, Sylvia Johnson, confirmed the boy's death for The Associated Press on Tuesday.
His mother says on Facebook, "He is with angels and he's in no more pain."
She posted that her son was doing poorly. His breathing was rapid, and slowed. She alerted a person from the hospice, and after an exam, was informed her did not have much time.
"Sean (his father) and I held him all day he was comfortable with his medication then at 8:18 my son took his last breath in my arms," her post said.
Logan stood with his grandmother, Debbie Stevenson, during a 12-minute wedding ceremony Saturday uniting Logan's mother and his father, Sean Stevenson.
After a whirlwind week, the Jeannette couple tied the knot in a hastily arranged backyard ceremony that formalized their union and celebrated Logan's life.
The Stevensons abandoned an original wedding date of July 2014 after learning from doctors late last month that their son had two to three weeks to live. The couple wanted Logan to see them marry and to be part of family photos.
Logan, who was born Oct. 22, 2010, was diagnosed shortly after his first birthday with acute myeloid leukemia. He has Fanconi anemia, a rare disease that often leads to cancer.
He had a short but difficult life. He endured a stem cell transplant in July 2012. Last March, he underwent surgery to remove a kidney ravaged by a tumor. During a Make-A-Wish trip to Disney World in June, Logan fell ill. He was hospitalized in Florida before he was flown back to Pittsburgh.
During a trip to the emergency room last month, a test revealed a mass in his remaining kidney, which led to his terminal prognosis. Logan is spending his remaining days at home, where he is showered with attention from family members.
Swidorsky's daughter, Isabella Johns, 13, served as bridesmaid and the couple's 1-year-old daughter, Savannah, was her parents' flower girl.
The Associated Press contributed to this report