Penn State fraternity death hearing to resume
Members of a Pennsylvania State University fraternity charged in the death of a pledge were set to return to court Thursday to resume a hearing to determine if the case will move on for trial.
Some of the accused 16 members of Beta Theta Pi are charged with involuntary manslaughter and aggravated assault for the February death of sophomore Timothy Piazza, 19. Others face lesser charges, including evidence tampering, hazing, reckless endangerment and alcohol offenses. Two defendants have waived their right to a preliminary hearing, PennLive reported.
Prosecutors are looking to have the young men held responsible for Piazza's Feb. 4 death after an induction ceremony left him lethally intoxicated, ultimately leading to his death, Philly.com reported.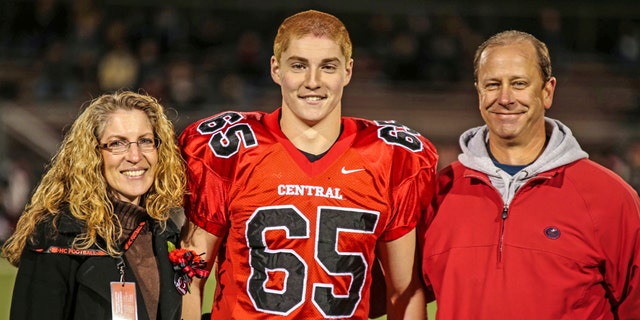 Security camera footage inside the house showed fraternity members holding Piazza down, strapping a weight-loaded backpack to keep him from turning over and choking, pouring liquids on him and trying to get him to stand, although he appeared to be unconscious. Piazza can be seen repeatedly falling and in some cases landing on his head.
He was found the following morning by fraternity members who waited an additional 40 minutes before calling for help.
The hearing began June 12 and the judge could rule as early as Friday on whether enough evidence exists to allow the case to go to trial.
Piazza's death was the 15th linked to hazing in the state of Pennsylvania, PennLive.com reported, citing a national database.
The Associated Press contributed to this report.