Payments volume growth, tax benefit contribute to 26 percent rise in Visa's fiscal 2Q profit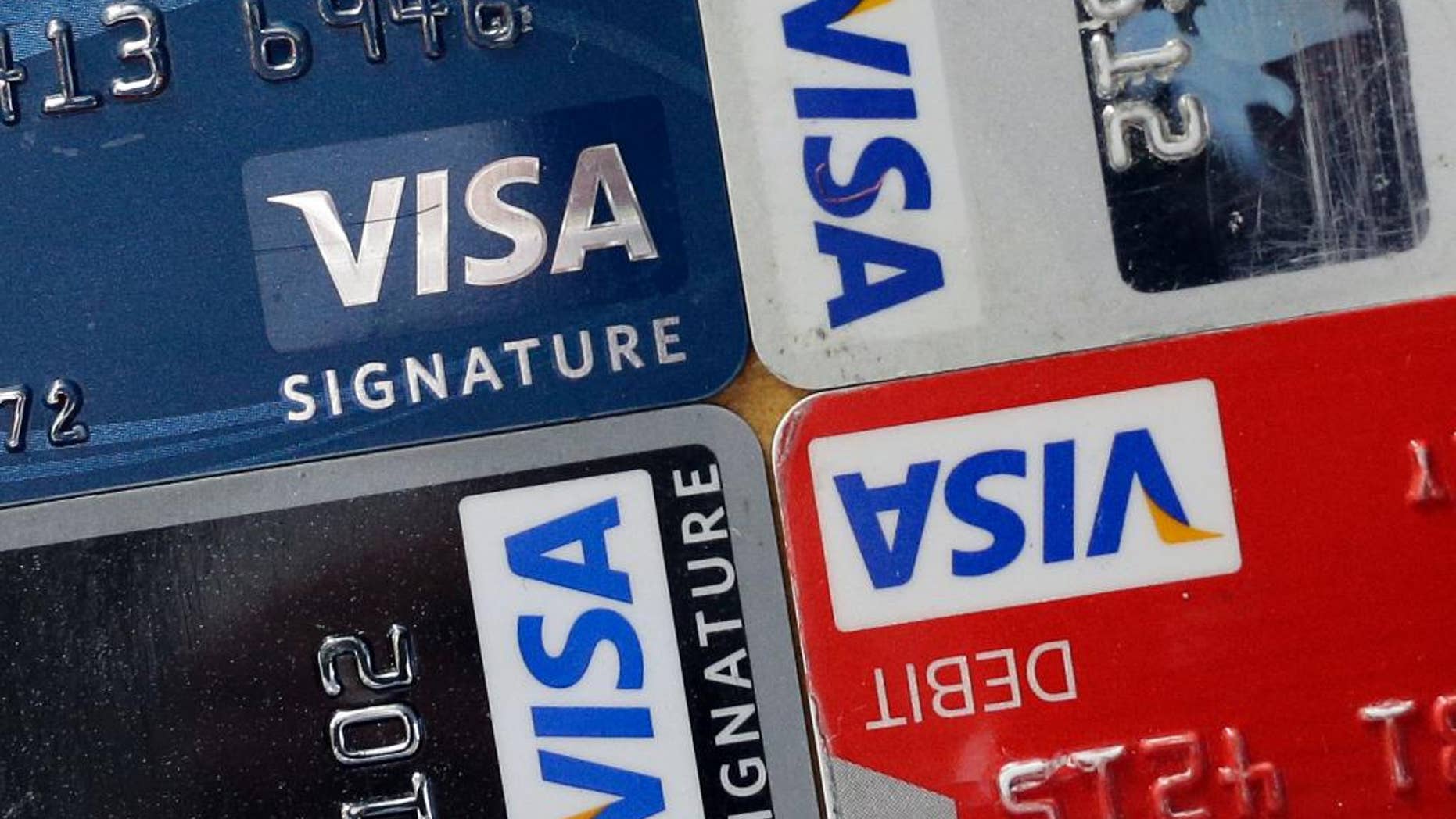 Visa Inc.'s profit jumped 26 percent in its fiscal second quarter from a year earlier as the company benefited from strong growth in payments volume, service revenue and a one-time tax gain.
The latest earnings exceed Wall Street estimates, but revenue fell slightly short. Management said Thursday that revenue growth was hurt during the January-March quarter by a stronger U.S. dollar and one-time items.
The company projects that the same factors will have a slightly more pronounced impact on revenue growth in the third quarter, but added that it expects revenue growth will rebound in the company's fiscal fourth quarter.
Shares of Visa fell more than 4 percent in after-hours trading.
Foster City, Calif.-based Visa is the world's largest processor of debit and credit card payments. As such, it benefits from heightened consumer spending, and its results are closely watched because they can be a window into the buying habits and financial health of consumers.
An unusually bitter winter sent factories, hiring and consumer spending into hibernation earlier this year, but signs emerged last month that consumers started spending more. U.S. retail sales rose last month by 1.1 percent.
In the first three months of the year, all credit and debit card transactions made on Visa's network grew 4.7 percent to $1.73 trillion versus the same period last year. Of that, $690 billion came from U.S. transactions, a gain of about 8 percent.
All told, the company processed 15.4 billion transactions during the quarter, up 11 percent from a year earlier.
That helped boost Visa's service, data processing, international transaction and other revenue for the quarter. At the same time, the company spent slightly more on client incentives.
In all, Visa's net income improved to $1.6 billion, or $2.52 per share, for the three months that ended March 31. That compares with net income of $1.3 billion, or $1.92 per share, a year earlier.
Excluding the tax benefit, the company earned $2.20 per share in the latest quarter.
Operating revenue rose to $3.16 billion from $2.96 billion a year earlier.
Analysts polled by FactSet, on average, forecast earnings of $2.18 per share on revenue of $3.19 billion.
Visa expects fiscal 2014 net revenue growth to range between 10 percent and 11 percent, citing the impact of currency exchange. It also affirmed its previous prediction for earnings growth.
Shares of Visa ended regular trading up 58 cents at $209.40. The stock slid $9.89, or 4.7 percent, to $199.51 in after-hours trading. Shares are down nearly 6 percent this year.