'Paws of War' brings joy, in form of puppy, to family of airman killed in Iraq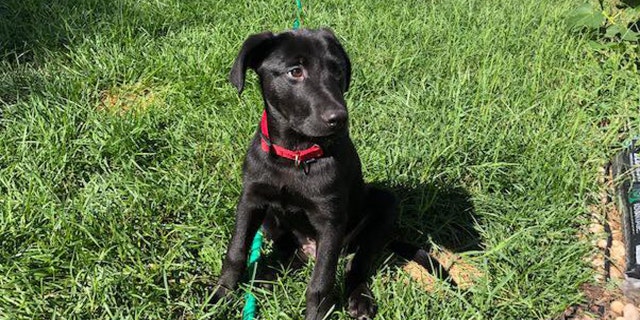 When an Air National Guard airman from New York was deployed to Iraq, he promised to bring home a puppy for his daughters when he returned in June.
Sadly, Master Sgt. Christopher Raguso of Long Island was one of seven men killed in Iraq on March 15 when their helicopter crashed.
But on Friday, his Gold Star family welcomed a puppy from an organization that places shelter dogs with veterans and their families.
"This was a good thing for us. We needed something genuinely happy."
When Calvin, a 4-month-old black Labrador, met his new family, they were overjoyed, Fox 5 New York reported.
"This was a good thing for us. We needed something genuinely happy," wife and mother Carmela Raguso, 36, told Long Island's Newsday.
Daughters Mila, 7, and Eva, 5, also were pleased. Asking for a puppy was Eva's idea, the mother said.
"The deal she made with Daddy is that she would keep his side of the bed warm until he got home and she hasn't left," Carmella told Fox 5. "So I'm thinking maybe her and Calvin can keep her bed warm and let Mommy have some peace at night."
Calvin was one of 11 dogs rescued from a high-kill shelter in Louisiana by Long Island animal group Guardians of Rescue, Newsday reported.
Paws of War was the nonprofit that then placed Calvin with the military family, Fox 5 reported.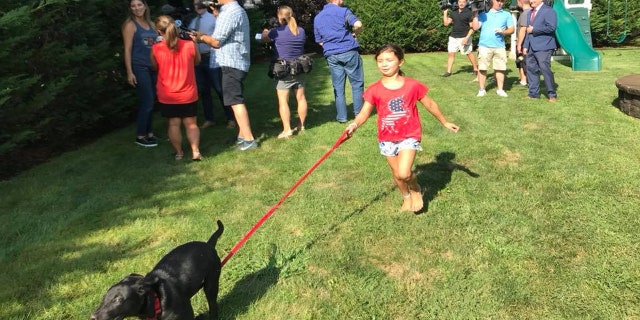 "Their reaction was phenomenal," Christopher McNamara, a neighbor and Paws of War volunteer who helped coordinate the surprise match, told Newsday. "I'm so happy for the family."
"Hopefully, this dog will really change their life," Paws of War co-founder Robert Misseri said. "Pray and be grateful for our armed forces every single day. This is why we live free like this."
Carmella imagined what her husband would say if he were there with them.
"'Carm, keep the backyard clean — don't let the dog destroy the house,'" she said. "But I think he'd be tremendously happy."
Eva was certainly happy.
"I don't care if he chews one of my toys, it's fine," she said. "I will never get rid of him. He's the best."