Patriotic Display in Ohio Neighborhood Honors Fallen Soldier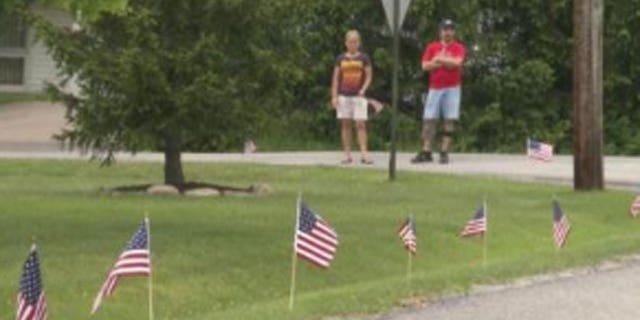 NEWYou can now listen to Fox News articles!
In a display of gratitude to Chief Warrant Officer Christopher Thibodeau for his sacrifice to his country, and a patriotic show of support for his grieving family, residents of Chesterland, Ohio, lined the streets of their neighborhood on Saturday with dozens of small American flags, Fox 8 News reports.
"We want to show the family our concern for the situation, you know it's a sad thing, that's what war is all about I guess, and we want the family to see that we care for them," says neighbor Lou Gravino.
The devastating news that 28-year-old Thibodeau had been killed in Afghanistan hit the community especially hard because he was scheduled to come home from service in June.
Neighbor Heidi Alesnik said she spoke to Christopher's mother the day before he was killed, and Mrs. Thibodeau told her that Chris, his wife and their families had so much to look forward to.
"She was excited that he was going to be home in six to eight weeks and she was excited because she was going to be a first-time grandma, " Alesnik said. "And the next day everything changed."
Click here for more Memorial Day stories from FoxNews.com.
Click here for more on this story from Cleveland's Fox 8 News.