Parts of South, Mid-Atlantic hit by snow, ice and deadly cold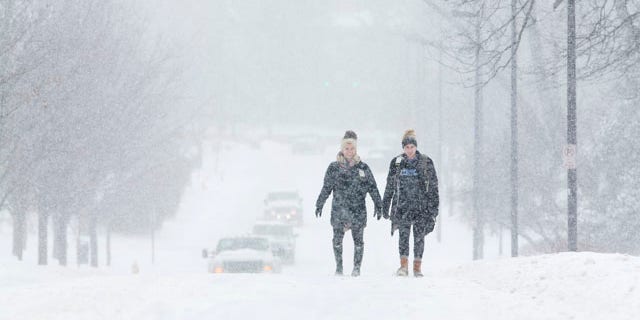 NEWYou can now listen to Fox News articles!
Another round of snow, ice and brutal cold crept up the East Coast Monday night into Tuesday after leaving hundreds of thousands without power in parts of the South.
In Washington, the federal government said its offices would be closed Tuesday, with a winter storm warning in effect for the area until noon. The National Weather Service is predicting 6 to 8 inches of snow. Forecasters say most of the snow will fall overnight, but there could still be some snow falling between 7 a.m. and 11 a.m.
The federal government's closure is the first of this winter, and will keep thousands of people off the area's roads and rail systems Tuesday.
Elsewhere, a state of emergency was declared in Tennessee, where emergency officials have asked the National Guard to deploy a 10-person crew with Humvees to check on stranded motorists. The Tennessee Emergency Management Agency says motorists were backed up on Interstate 40 and part of I-24 was closed due to an earlier backup. The agency said that 55,000 people were without power late Monday.
The February storm arrived on Presidents Day, when many schools and businesses were already closed. But the day isn't a state holiday in North Carolina so schools let out early Monday and by the afternoon officials were canceling classes Tuesday. College campuses, including from Appalachian State University in the western part of the state and University of North Carolina at Chapel Hill, canceled afternoon classes Monday. At one point, nearly all of the state's 100 counties were under some kind of weather alert.
North Carolina Gov. Pat McCrory on Monday shut down all non-mandatory state government operations in Wake County in the early afternoon before any precipitation had fallen. He also declared a state of emergency and issued executive orders designed to streamline any storm cleanup. He encouraged supervisors elsewhere in the state to use their discretion in sending employees home.
Duke Energy reported over 80,000 customers without power across North Carolina and the northern portion of South Carolina as of early Tuesday.
In central Kentucky, home to much of the state's signature thoroughbred industry, horses kept warm by galloping through the deep snow, pausing occasionally to shake it off from their thick winter coats. Ned Toffey, general manager of Spendthrift Farm in Lexington, said the horses enjoy running in the snow because it gives them a nice cushion as opposed to the harder, packed earth.
Still, some weren't quite ready for the winter blast.
RL Doss said he had already used his 1987 GMC Suburban — which can haul up to three-quarters of a ton with ropes and chains — to rescue several people and their cars on the hills surrounding Frankfort. Cars were fishtailing and sliding off the slick roads.
"I look at it this way. Everybody is trying to get out, to get their last bit of food and stuff, getting home from work and people leaving for work and stuff, and it happens," he said, shivering in a pair of tan overalls pulled over a hooded sweat shirt.
Like his North Carolina counterpart, Kentucky Gov. Steve Beshear urged people to stay home if possible as parts of his state were buried under a foot of snow.
In Arkansas, where where temperatures plummeted from the 70s on Saturday to highs in the 30s a day later, had nearly 30,000 people without power at the peak of the storm. But Arkansas safety and transportation officials said Monday the fallout from sleet and snow wasn't as bad as officials thought it would be. Arkansas State Police spokesman Bill Sadler said troopers didn't report any fatal or serious crashes in the morning hours as temperatures dropped to about 25 degrees in Little Rock. Officers were primarily responding to vehicles sliding off of the road, he said.
Freezing rain also fell as far south as Mississippi, where more than 15,000 customers were without power Monday evening.
Road crews and utility workers in South Carolina spent most of the day preparing for the weather, treating roads and putting crews on standby. The state Highway Patrol said more than 80 wrecks had been reported in six Upstate counties by sundown Monday.
Georgia officials took no chances, bringing in more personnel to the state operations center and pre-treating roads with a mixture of salt and water. Georgia Power said that over 90,000 of its customers were without power early Tuesday.
The winter-weary Northeast was spared precipitation Monday, but had to deal with below-freezing temperatures and a wind-chill factor of well below zero.
New York City came close to breaking a 127-year-old record when the temperature in Central Park hit 3 degrees, just 2 degrees above the record set in 1888, said Jeffrey Tongue, a National Weather Service meteorologist.
Boston Mayor Martin J. Walsh said the latest snow storm left one person dead, apparently due to a heart attack while shoveling snow. A partial roof collapse at an eight-building apartment complex in Portsmouth, New Hampshire, left 500 to 700 people looking for shelter. In New Jersey, a 66-year-old woman who had been drinking at a benefit was found dead in the snow, just two doors from her home. Firefighters working on a blaze in Philadelphia left behind a building coated in icicles. No one was hurt.
The Associated Press contributed to this report.