Parkland victim Meadow Pollack's father sues Deputy Scot Peterson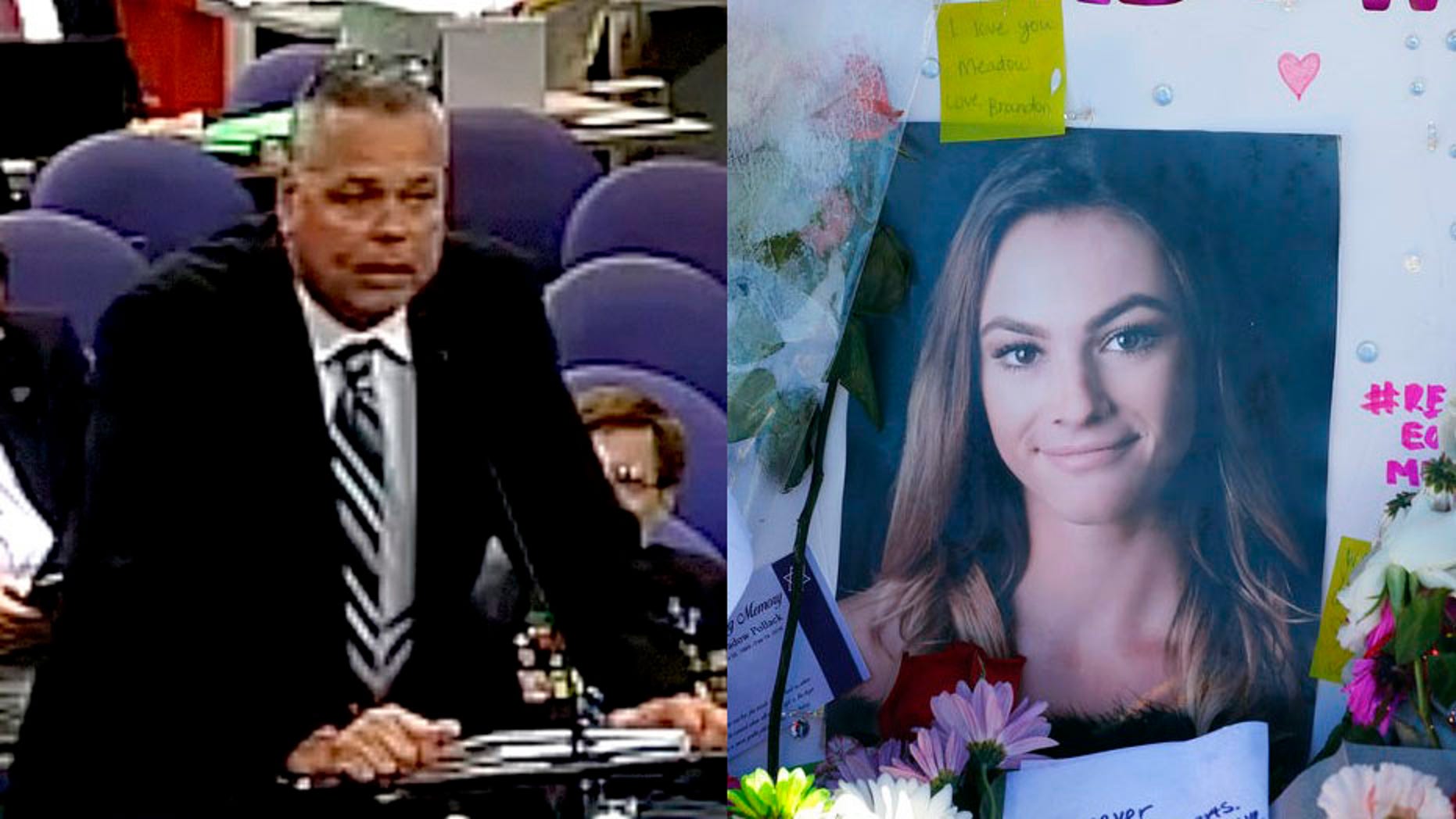 Andrew Pollack, the father of Parkland school shooting victim Meadow, filed a lawsuit Monday against former Broward County Deputy Scot Peterson, the school resource officer who didn't enter Marjory Stoneman Douglas High School while the massacre unfolded inside.
"I filed a wrongful death suit against Deputy Peterson today," Pollack tweeted. "I want to expose that coward so bad. Where ever he goes I want people to recognize him and say that's one of the cowards of Broward. The SRO that let those children and teachers die on the 3rd floor!"
Peterson, of the Broward County Sheriff's Office, was the school resource officer on duty at Stoneman Douglas when confessed gunman Nikolas Cruz opened fire at Stoneman Douglas — killing 17 people, including Pollack's 18-year-old daughter.
The lawsuit was filed in Broward County Court and, in addition to Peterson, listed the estate of Lynda Cruz, James Snead, Kimberly Snead, Henderson Behavioral Health, Jerome Golden Center for Behavioral Health INC, and South County Mental Health Center, INC., as defendants, the Sun-Sentinel reported.
BROWARD DEPUTY SCOT PETERSON SEEN STANDING OUTSIDE DURING FLORIDA SCHOOL SHOOTING IN NEW VIDEO
Pollack, who was one of three victims' fathers who was appointed to a 16-member commission to investigate the Feb. 14 shooting, stated in a follow-up tweet that his lawsuit "has nothing to do with money."
"I want to be sure anywhere he goes in this country he will be recognized as the coward that could have gone in and saved the students and teachers on the third floor," the father added.
According to Sheriff Scott Israel, Peterson, a 33-year law enforcement veteran, "never went in[to]" the building that was under attack, and instead took up a position outside which allowed him to view the western entrance of the building. Surveillance footage released after the shooting shows Peterson standing in that area for 20 minutes.
Despite criticism, 54-year-old Peterson stood by his actions. The former deputy's lawyer said in a statement that "the allegations that Mr. Peterson was a coward and that his performance, under the circumstances, failed to meet the standards of police officers are patently untrue."
After he was suspended without pay pending an internal investigation, on Feb. 23, Peterson, the sheriff's office said, "chose to resign and immediately retired rather than face possible termination."
Pollack's son, Hunter, tweeted earlier Monday that Meadow's family "wants the world to know this is the guy that hid behind a concrete wall while kids and teachers were killed."
"He's a WEASAL COWARD, and no matter where he goes should be recognized as a failure," Hunter Pollack said. "He failed to act, and than lied about it after. We will not forget!"
Andrew Pollack's lawsuit is the second to be filed following the Feb. 14 shooting.
Student Anthony Borges, who was shot five times as he shielded classmates during the massacre, filed a lawsuit April 17 against Cruz, the estate of his late mother, a family that took him in after his mother's death and three mental health facilities that treated him.
Fox News' Katherine Lam and The Associated Press contributed to this report.