Parents of shooting suspect James Holmes' plead against death penalty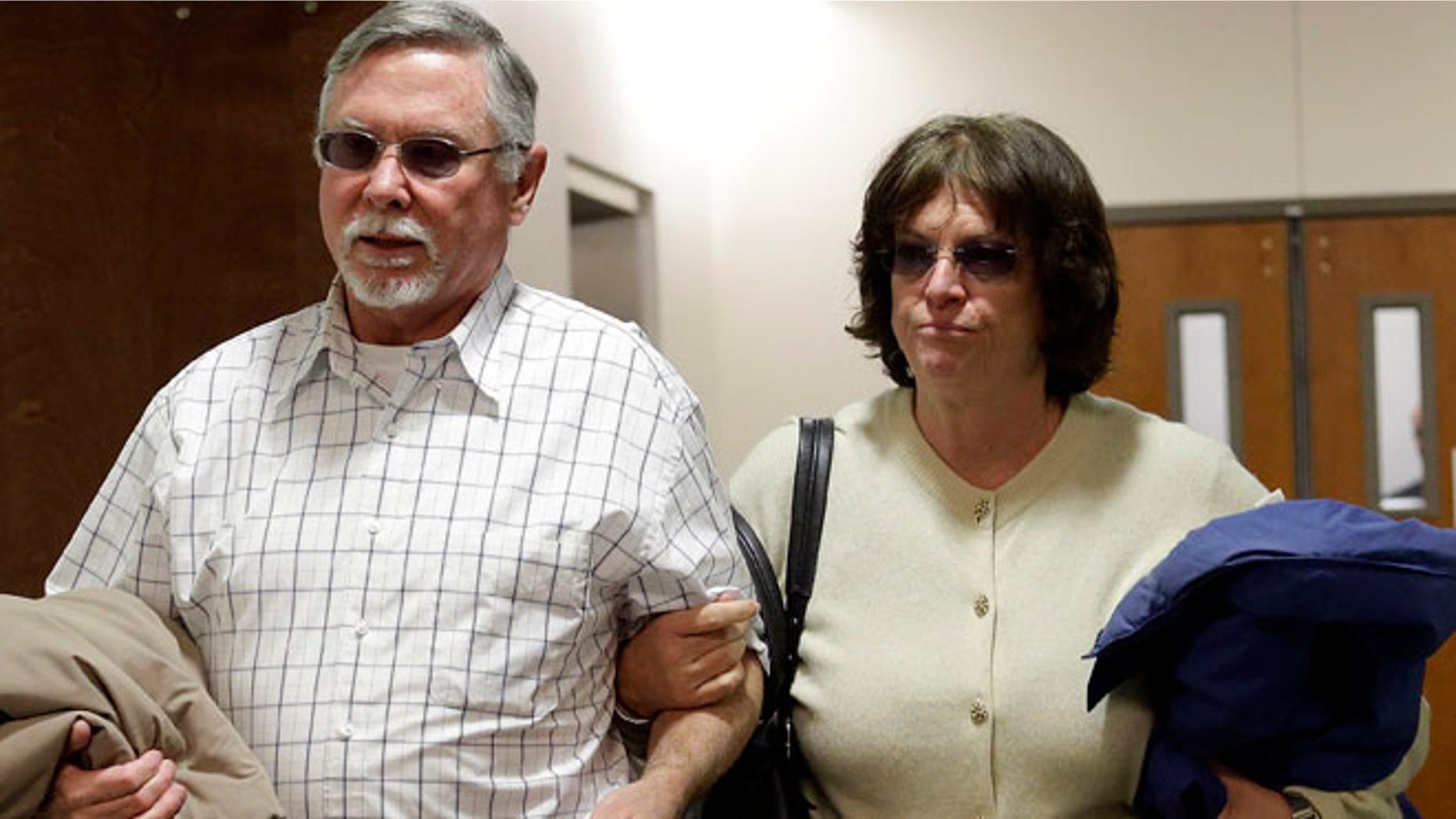 DENVER – The parents of Colorado theater shooter James Holmes pleaded Friday for his life to be spared through a plea bargain -- a move that rekindled the long-running, emotional debate about whether the horrific details of the mass killing should be played out at his upcoming trial.
The statement released by Robert and Arlene Holmes emphasized a key legal issue in the tortured history of the case -- whether Holmes was sane when 12 people were killed and 70 others were injured, and whether he should die if convicted of the crime.
"He is a human being gripped by a severe mental illness," the parents wrote in just their second public comments since the 2012 attack. "We have always loved him, and we do not want him to be executed."
The statement also thrust the mass shooting into the spotlight once again at a time of heightened concerns over theater safety. The hackers who prompted Sony to withhold the release of "The Interview" had threated violence against theaters.
Prosecutors previously rejected at least one proposed plea deal made by attorneys for Holmes, criticizing the lawyers for publicizing the offer and calling it a ploy meant to draw the public and the judge into what should be private plea negotiations.
They said the proposal could not be considered genuine because the defense repeatedly refused to give them information needed to evaluate it. No details were provided on the information but attorneys have argued in court previously about access to details concerning Holmes' mental health.
Jury selection is set to begin on Jan. 20 in the trial.
It's hard to know exactly what Holmes' legal defense looks like, since court filings have been heavily redacted and the findings of two court-ordered sanity evaluations have been sealed from public view.
Defense attorneys don't deny he was the shooter but say he was in the grips of a psychotic episode.
The comments by Holmes' parents incensed some survivors of the attack and relatives of those killed. They questioned the timing around the holidays and as 9,000 jury summonses were being delivered for the trial.
"To give a person who committed such a calculated, horrific crime a life sentence, to me that's like giving him a slap on the wrist," said Marcus Weaver, who was shot in the arm and whose friend, Rebecca Wingo, died in the attack.
He called the statement a ploy by defense lawyers to manipulate the jury pool and generate "sympathy for a man who has done a horrific thing."
"For his parents to send us an apology letter three years later is an insult," Weaver said. "It would have been better if they had said nothing at all."
The prospect of a longer legal battle troubled others such as Pierce O'Farrill, who was shot three times. He previously said he would welcome an agreement that would imprison Holmes for life.
"I don't see his death bringing me peace," O'Farrill told The Associated Press in March 2013. "To me, my prayer for him was that he would spend the rest of his life in prison and hopefully, in all those years he has left, he could find God and ask for forgiveness himself."
Prosecutors, who are under a gag order, declined to comment, saying it would hurt the fairness and integrity of the trial.
Holmes has pleaded not guilty by reason of insanity to the charges filed after the July 2012 attack at the theater in Aurora, outside Denver.
His parents, who live in Rancho Penasquitos, California, say they want to avoid a traumatic trial. One option would be a deal that calls for a guilty plea in exchange for a sentence of life in prison without parole, they said.
"If that happened, our son would be in prison the rest of his life, but no one would have to relive those horrible events at a trial the media has permission to televise," the parents wrote.
They say the best option would be sending their son to an institution for the mentally ill, which could happen if he is found not guilty by reason of insanity.
In addition, they say they have spent every moment since the shooting thinking about the victims and their families and friends.
"We are always praying for everyone in Aurora. We wish that July 20, 2012, never happened," they wrote.
The parents previously issues brief comments through a lawyer expressing support for their son immediately after the attack.
They have not disclosed details of his condition or whether they had any warning that he might become violent.
Some victims questioned their sincerity.
Melisa Cowden, whose ex-husband Gordon Cowden was killed in the shooting, called the statement comical and said she was upset that Holmes' parents have not apologized for what happened.
"He's not mentally ill," Cowden said.