Parents at California house of horrors had 'God call on them', family says, as details of their past emerge
A California couple accused of shackling many of their 13 children to their beds had such a large family because "God called on them," according to the children's grandparents, the insight coming as more details emerged Tuesday of what occurred inside the house of horrors that's left a community on edge.
David Turpin, 57, and Louise Turpin, 49, were still being held Tuesday on suspicion of torture and child endangerment after 13 of their kids allegedly were found captive in the couple's home in Perris, with "several children shackled to their beds with chains and padlocks in dark and foul-smelling surroundings," police said.
James and Betty Turpin, David's parents and the children's grandparents, also told ABC News the Turpin children were given "very strict homeschooling" and were forced to memorize long passages in the Bible, with a few trying to memorize the entire religious text outright.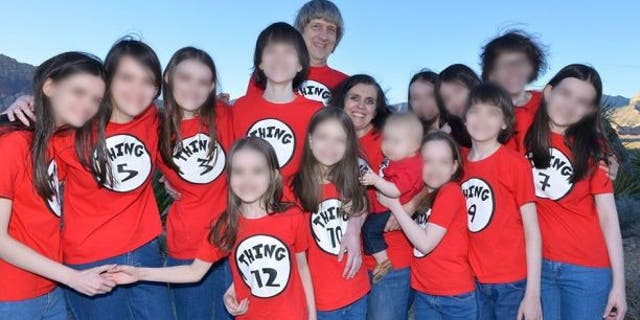 James and Betty also told ABC News that, despite David and Louise being in the Pentecostal faith, they did not have a church in the area and knew of no friends of the couple. When they visited the family in Perris around four or five years ago, they remembered the children looking thin, but believed the kids appeared to be part of a "happy family."
Police were notified of the home after a 17-year-old girl jumped out of a window there on Sunday and called 911.
Riverside County Sheriff's Department Capt. Greg Fellows said Louise Turpin was surprised when officers first encountered her at the home.
"You never saw a bike in the front yard... You never saw a skateboard... A scooter... You never saw that."
"It seemed the mother was perplexed as to why we were at that residence," he told reporters Tuesday, adding that police had no history of visiting the home.
He also hailed "the courage of the young girl who escaped from that residence to bring attention so they could get the help that they needed."
Corona Regional Medical Center CEO Mark Uffer said the facility is treating seven of the children.
"It's hard to think of them as adults when you first see them because they are small," Uffer said, but noted that they were being "friendly" and "cooperative".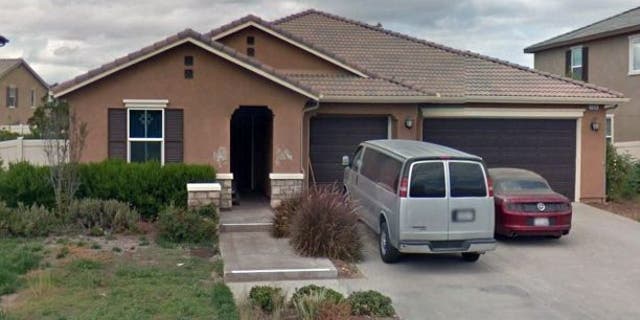 The children ranged in age from 2 to 29 and appeared on the verge of starvation when they were rescued by police Sunday. Both Turpins are being held on $9 million bail and are scheduled to appear in court Thursday, according to the Associated Press.
The couple apparently ran a private K-12 institution out of their home called Sandcastle Day School that opened in 2011, with David Turpin listed as the principal, according to the Los Angeles Times, citing public records. In the 2016-17 school year it had an enrollment of six with one student in each of the fifth, sixth, eighth, ninth, 10th and 12th grades.
"Private schools, they don't have to get any approvals from the local school district," Candace Reines, the Perris Union High School District deputy superintendent for business services, told The Press-Enterprise.
The newspaper said the family bought the four-bedroom, three-bathroom, 2,388-square-foot home in 2014 – a year after it was built – for $351,000, according to county property records. They arrived in the Golden State in 2009, the newspaper added, citing a comment made on a family photo posted online.
Prior to making the move, the Turpins lived in Texas. They ran into financial struggles in recent years, declaring bankruptcy twice, according to the Los Angeles Times, which looked at their public records.
Ivan Trahan, who represented the couple in their 2011 filing, was quoted by the Times as saying the Turpins seemed like "very nice people who spoke highly of their children."
"They seemed like very normal people who fell into financial problems," Trahan added.
He said David worked as an engineer with Northrop Grumman, and a defense contractor confirmed to the newspaper that he was with the company until 2010.
The grandparents told ABC News that David, a computer engineer with a degree from Virginia Tech, also had a stint working with General Dynamics in Texas.
Amid the move and apparent financial troubles, the couple had three marriage renewal ceremonies at the Elvis Chapel in Las Vegas, Nev., in 2011, 2013 and 2015, The Press-Enterprise reported.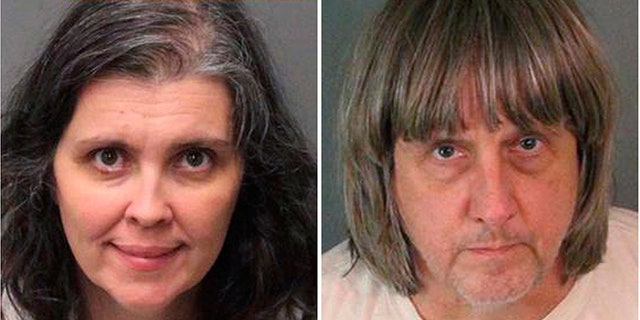 A Facebook page purportedly belonging to the couple shows numerous pictures of the couple, family and an Elvis Presley impersonator.
In a 2011 YouTube video of one of the ceremonies, David, being led by the Elvis impersonator, places a ring on Louise's finger.
"I offer you this ring as a symbol of my love, baby baby" David Turpin says, before dancing with Louise in a rendition of the classic Elvis ballad "Can't Help Falling in Love".
As of Tuesday morning, the video was steadily racking up views – and criticism in the comments section.
"Surely one of the most awkward videos I've ever seen in my entire life... So f----n creepy..." said one commenter.
The Facebook page also contains purported photos of Louise Turpin dressed as Snow White and holding an infant, and others of the family visiting Disneyland.
"Thanks and next in 9 months we will have a new little one to add!" a profile with the name "David-Louise Turpin" excitedly wrote in 2010 under an image of the family.
Neighbors in Perris say they still can't believe the alleged atrocities happened inside the seemingly ordinary home.
"Every time I walk past, their home is desolate," Ricardo Ross told FOX11. "It just looks scary."
Kimberly Milligan, who lives across the street from the Turpins, said the family rarely gave off the impression they had children in the two-and-a-half years she has lived in the neighborhood.
"You never saw a bike in the front yard... You never saw a skateboard... A scooter... You never saw that," Milligan told the station. "These children that we saw who I believe were the ones in their 20's... Social, mentally, emotionally... They are not in their 20's."
A woman who identified herself to the Daily Mail as Louise's sister said she hadn't seen her relative in 19 years, and never got an invite to do so.
"Something didn't seem right about her parenting but never would I have expected it to be like this," Elizabeth Jane Flores, 41, from Cleveland, Tenn., told the website. "They wouldn't let anyone visit and we didn't know their address… We would talk on the phone from time to time, but every time I would ask to talk to her kids, she wouldn't let me."
Fox News' Benjamin Brown contributed to this report.