Pair of Kentucky crashes results in 6 deaths, 5 injuries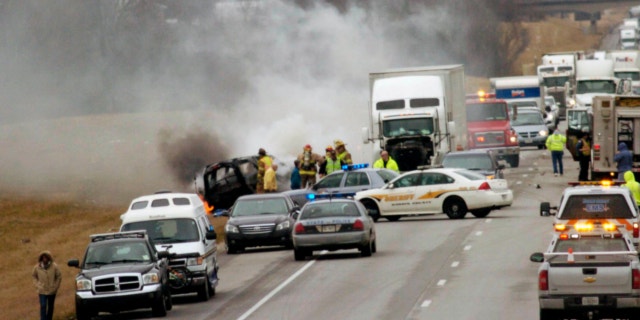 NEWYou can now listen to Fox News articles!
ELIZABETHTOWN, Ky. – The drummer for country music star Kellie Pickler remains hospitalized in serious condition after a multiple vehicle crash in Kentucky.
Gregg Lohman of Goodlettsville, Tenn., was one of five people hospitalized in two crashes that happened within minutes of each other at the same spot on Interstate 65 in central Kentucky on Saturday. Six people were killed in one of the wrecks
A Kentucky State Police spokesman says Lohman, who also works as a music instructor at Tennessee State University, has head and neck injuries after a four-vehicle wreck in the southbound lanes. It happened about 15 minutes after a fiery crash involving a tractor-trailer and an SUV on the northbound side of the highway.
Six people from rural Wisconsin were killed when the tractor-trailer rear-ended their Ford Expedition in the northbound lanes near Glendale, Ky.
The National Transportation Safety Board has consulted with law enforcement and doesn't currently plan to open an investigation.