Pair arrested in grisly basement murders; bodies were dissolving in chemical 'baths'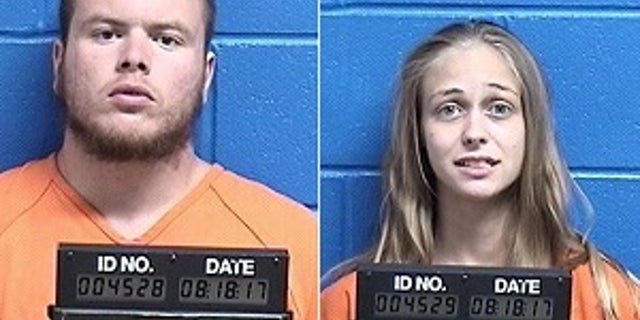 Two western Montana residents were charged with deliberate homicide in the stabbing deaths of two unidentified people whose bodies were found in plastic tubs of chemicals in the basement of a home.
Tiffanie Pierce, 23, and Augustus Standingrock, 26, were arrested last week and made their initial appearances in Justice Court on Monday. Both are charged with deliberate homicide and accountability to deliberate homicide for the deaths of a man and a woman on Aug. 17. They did not enter pleas and bail was set at $2 million.
The bodies of the unidentified man and woman were found in a Missoula home.
GIANFORTE ORDERED PHOTOGRAPHED, FINGERPRINTED FOR ASSAULT OF REPORTER
"There's no combination of [release conditions] that would ensure that members of our community would be safe," Missoula County Attorney Kirsten Pabst told Justice of the Peace Marie Andersen on Monday.
Pierce and Standingrock tried to dispose of the bodies of the victims by putting them in tubs with chemicals, prosecutors said.
Investigators discovered that Pierce purchased the chemicals, tubs and cleaning supplies that were found at the crime scene, according to KRTV. They also found a bloody ax and knives.
Pierce's roommate told police he was awakened by a woman's screams and found Pierce and Standingrock in the bathroom washing blood off themselves before Pierce told him there was a dead woman in the basement.
The roommate left the house after he was told of the body. He said Pierce later showed up at his work and told him she "killed a couple people last night," according to court records.
Pierce reportedly told her roommate that Standingrock brought a couple of people over and that he took them to the basement and attacked one. Pierce attacked the other person who tried to get away, according to the roommate.
MONTANA WILDFIRE GROWS, DESTROYS 2 HOMES
Officers received a search warrant for the Missoula home and discovered Pierce and Standingrock at the residence.
Officers discovered a handgun and the two bodies in the home.
The initial investigation discovered that both victims died of stab wounds.
Pierce is also being investigated for another crime, a home invasion and stabbing that occurred in late July. The victim told officers that a woman asked her several times, "Where's the money, where's the drugs?"
The Associated Press contributed to this report.