Oxygen tanks explode at US military base in South Korea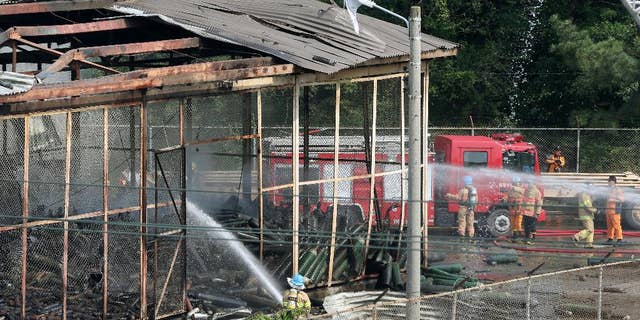 SEOUL, South Korea – More than 20 oxygen tanks exploded at a U.S. military base in South Korea on Thursday, triggering a fire, but there were no reports of casualties, South Korean officials said.
The U.S. military said it was investigating the cause of the incident at Camp Carroll, 280 kilometers (175 miles) southeast of Seoul.
It said one building at the U.S. base was damaged, but no other structures on or off the base were harmed. South Korean media photos showed a nearly burned-out building that had housed the tanks.
South Korean fire officials, however, said shrapnel scattered by the blasts fell on a nearby farming village and triggered separate fires there. Those fires were quickly contained and there were no reports of injuries, they said.
About 20 medical oxygen tanks, each weighing 50 kilograms (110 pounds), exploded, said officials at South Korea's Ministry of Public Safety and Security who requested anonymity, citing department rules. They said an unknown number of a smaller oxygen tanks also blew up.
The U.S. military statement said there was "an oxygen tank explosion," without specifying how many tanks were involved. The South Korean safety officials said they obtained their information from local fire officials who helped extinguish the blaze triggered by the blasts.
Fire officials said they sent 18 firetrucks to the scene and extinguished the fire in less than an hour.
A South Korean resident told the YTN television network that the windows of his house, about 200-300 meters (660-980 feet) from the U.S. base, were shaken by a series of loud explosions.
The United States stations about 28,500 troops in South Korea as deterrence against potential aggression by North Korea.
___
Follow Hyung-jin Kim on Twitter at twitter.com/hyungjin1972