Oregon woman killed in suspected cougar attack had broken neck, multiple puncture wounds: report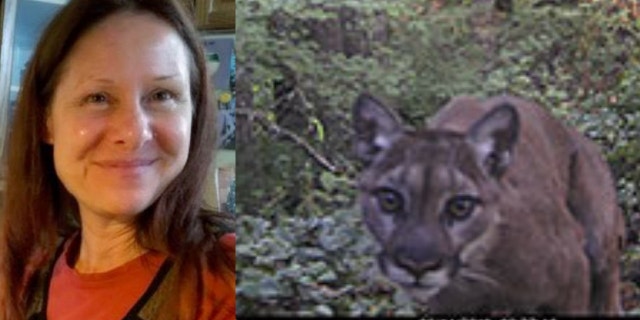 An Oregon woman who was killed in a suspected cougar attack suffered a broken neck and more than a dozen puncture wounds to the nape of her neck, showing it was "consistent with an animal attack," a report revealed Wednesday.
Diana Bober, whose body was discovered in September off a trail in Mt. Hood National Forest in Welches, also had wounds on her hands that appeared to show she was attacked by an animal at the time of her death, Oregon Live reported.
Her official cause of death was not listed in the report.
Authorities began searching for the missing hiker on Sept. 7, though relatives said they hadn't heard from the 55-year-old woman since Aug. 29. Her body was found in the national forest located about 40 miles southeast of Portland.
"It is highly probable that the cougar that killed Diana is the one that we killed last week," said Derek Broman, Oregon Department of Fish and Wildlife's carnivore coordinator.
Authorities immediately launched a search for the female cougar and, four days after Bober's body was found, killed the feline.
Officials said they couldn't extract DNA sample because of several factors, but stated that "all the evidence available" showed the cougar they killed was responsible for Bober's death.
"We hope the ending of these operations brings some closure for Diana's family," Broman said. "All of us extend our deepest sympathies to the Bober family."
The death was the first confirmed fatal cougar attack in Oregon.