Oregon teen wrote about plot to attack school, court records say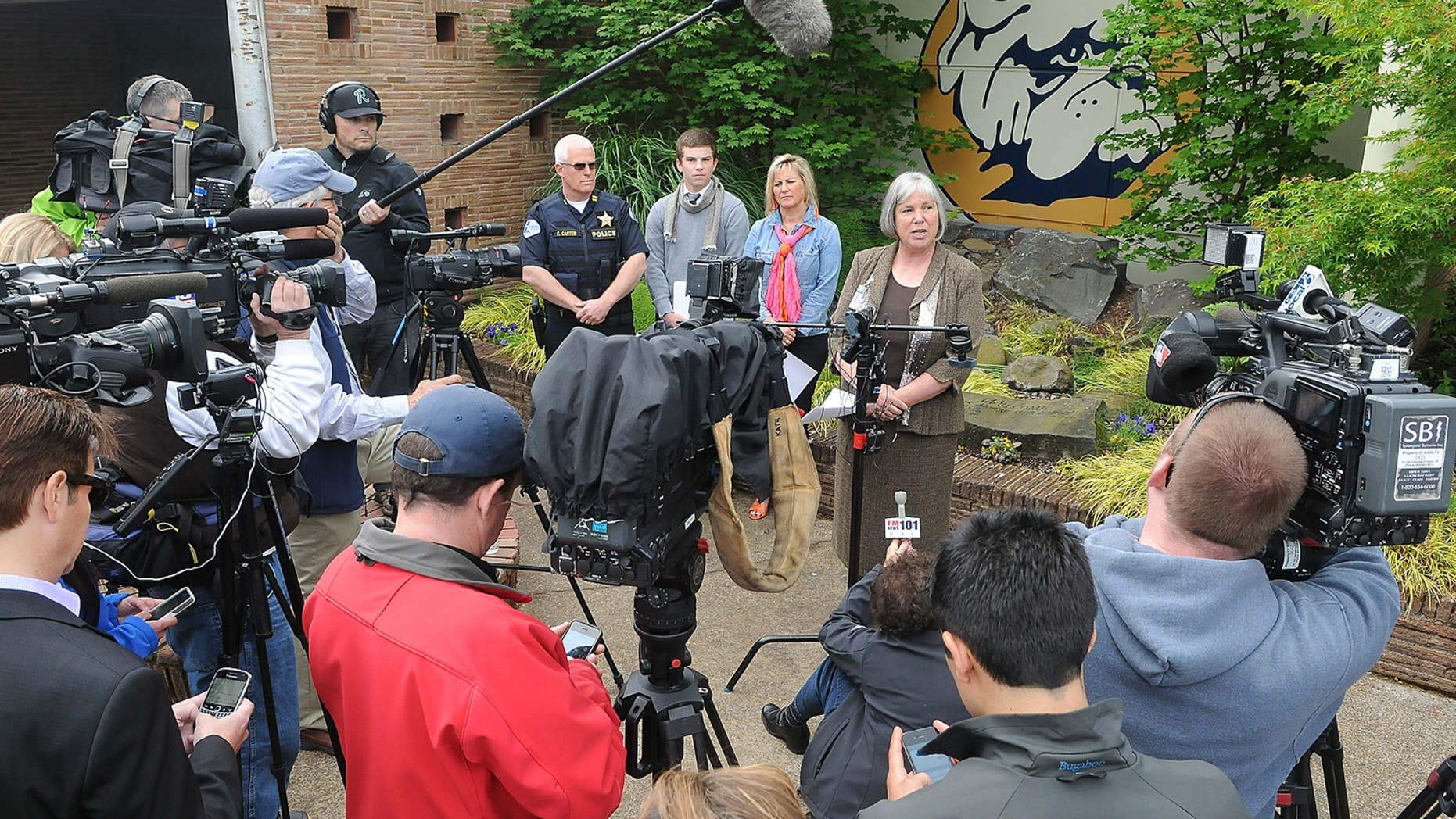 An Oregon teen accused of planning an assault on his high school wrote detailed plans about the attack in notebooks and planned to kill himself before engaging with responding police officers, according to court documents released Tuesday.
Grant Acord, 17, was charged Tuesday as an adult with 19 charges, including attempted aggravated murder and six counts each of unlawful possession and manufacture of a destructive device. His bail has been set at $2 million.
Acord made his first court appearance by video transmission Tuesday.
Wearing a light-gray sweatshirt and sweatpants with shaggy brown hair covering most of his forehead, Acord said little but replied "yes, your honor" to questions from Judge Matthew Donohue, who set bail at $2 million.
Acord's writings included "multiple versions of the plans and diagrams to commit an attack" on West Albany High School, according to a probable cause affidavit signed by Albany Police Detective Mike Wood.
Police say the notebooks that were found hidden beneath the floorboards in the teen's bedroom, along with two pipe bombs, two Molotov cocktails and at least two Drano bombs.
In one, labeled "The (Loosely Stated) 'Plan' AKA Worst case Scenario," the teen lays out an itinerary for an attack: Leave home at 7:30, go to first period, then retreat to the parking lot to prepare.
At about 11:10, he would begin blasting music from the car while walking toward the school, a napalm firebomb in one hand and a duffel bag in the other.
"Drop duffel. Light and throw napalm, unzip bag and begin firing," the notebook said. "Cooly state: 'the Russian grim reaper is here.'"
The line is apparently a reference to the 2003 film "Bad Boys II."
The plan went on: "Throw a smoke bomb prior to walking in. Proceed to enter the school, then shoot and throw bombs throughout the school. Kill myself before S.W.A.T. engages me."
The detective wrote that the notebooks indicate that Acord "compares himself to both Eric Harris and Dylan Klebold," the teenagers who killed 13 people at Columbine High School in Colorado in 1999 before turning their guns on themselves.
Police said they found printouts of a website listing the weapons used by the shooters at Columbine High School and a list of items to use in an attack, including a black trenchcoat, a belt with skull and crossbones buckle, wool socks, various explosive devices and a propane tank.
Several items were listed on a page titled "I NEED." They include explosive materials, ammunition, a Hi-Point 995 rifle and a Mossberg 500 pump-action shotgun.
The prosecutor declined to say whether police found firearms in the home.
On Monday, Acord's mother, Marianne Fox, issued a statement through a Corvallis lawyer, Alan Lanker, saying the teenager struggles with a rare form of obsessive-compulsive disorder.
"I grieve for my son, but understand and support the efforts of law enforcement to keep our beloved community safe," the statement said. "This is a challenging and confusing time for everyone who knows Grant."
Prosecutor Chris Stringer declined to comment Tuesday about the statement by Acord's mother.
The boy lives primarily with Fox, Lanker said.
The Associated Press normally doesn't name minors accused of crimes but is doing so in this case because of the seriousness of the allegations and because Acord is being charged as an adult.
No bombs were found during searches of the school, and classes resumed as scheduled Tuesday.
"I have been advised that none of the evidence developed thus far suggests any broader conspiracy or involvement by any other persons," Maria Delapoer, the superintendent of Albany schools, said in a statement to parents. "The bottom line is that the school is safe and that students can return to school on Tuesday confident that no outstanding threats remain."
The Associated Press contributed to this report.