Oregon Professor to File Suit for Being Fired for Snapping at Student to Stop Talking Or He'll Shoot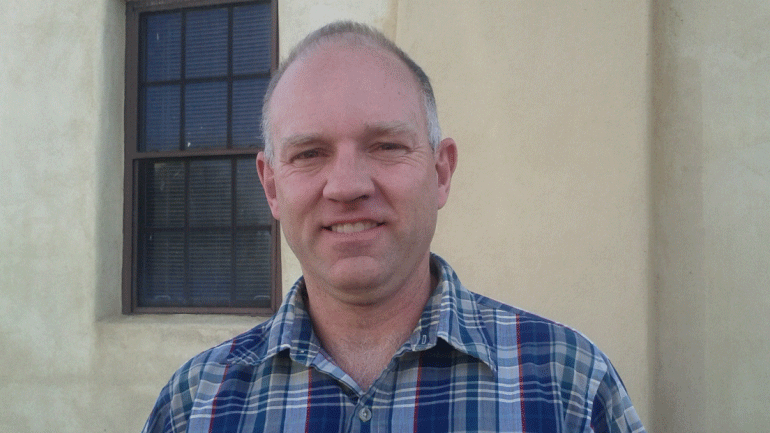 A deaf, sign language professor is planning to sue to get his job back at the University of Oregon after he was fired for a sarcastic comment he made about shooting a student in the head for speaking out in class.
On May 4, Peter Quint, who teaches American Sign Language, started a lecture by telling a story about a dangerous situation he faced in Pakistan when a tribesman pointed a gun at him.
According to Tyree Harris, a student in the class, Quint described how he was threatened by a terrorist group and smoked "some marijuana as proof that he was not in Pakistan to be drug competition."
Harris wrote in the school paper the Oregon Daily Emerald that Quint tried to use the story as an example of how he ensured his safety because he could communicate that he wasn't a risk to the group, which was believed to be in the drug trade.
But later when a student began to interrupt Quint's story, the professor's communication skills evidently faltered.
"Do you want me to take a gun out and shoot you in the head so you understand what I am talking about? I had to practice being respectful in Pakistan otherwise I would have been shot. Can you practice the same respect here?" Quint responded.
The same day, university officials received a complaint from a student about Quint's comment.
Robert Shibley, senior vice president at the Foundation for Individual Rights in Education, or FIRE, a non-profit organization that works to uphold free speech on college campuses, said Michael Bullis, dean of the College of Education, notified Quint by e-mail that he had been suspended from teaching. A few days later, Bullis sent Quint another e-mail saying that he would remain on paid leave until June 15 and would not be re-appointed to teach future courses.
Quint was ordered not to "visit the college or contact faculty, staff, or students," said Shibley, who added that he was not aware of any other reported complaints about Quint's teaching performance.
Quint "was talking about the need to communicate across barriers and show respect in a foreign environment," said Shibley, whose group is working on Quint's case. He noted that the class had a history of being disruptive and the student's interjection was against class policy.
Shibley said Quint, who was finishing his second year of teaching as an adjunct professor at the university, sent an e-mail to students in the class apologizing for his remarks.
But Harris wrote in the school paper that the termination was appropriate.
"Quint was fired because of his poor class management skills and his crude, inappropriate examples that made students uncomfortable all year," wrote his former student.
Korrin Bishop, another student in Quint's class, disagrees. Also writing in the school paper before Quint's termination, Bishop told a different story.
"I believe Quint's best attribute is his incredible sense of passion. He has an understanding of students and maintains a positive attitude through both highs and lows," Bishop wrote.
Earlier this month, FIRE sent a letter to the University of Oregon's President Richard Lariviere, asking him to retract Quint's termination.
"Professors need to have a lot of freedom to be able to pursue their scholarly interest and teach their students," said Shibley.
But Roger Hennagin, an attorney in Lake Oswego, Ore., said he thinks the academic freedom argument may be "stretching it."
"Academic freedom in my view is directed more to matters that are related to what one is teaching and being able to take a controversial or unpopular position without fear of retaliation," Hennigan said.
FoxNews.com contacted university officials, who would not comment on the pending litigation. However, the university did release a statement.
"The University of Oregon conducted a thorough investigation into the incident that occurred in Mr. Quint's classroom prior to taking action," the statement reads. The Oregon University system also said it has procedures for formal proceedings when dealing with matters such as Quint's.
"The charges or a notice accompanying the charges shall inform the academic staff member of the right to a formal hearing on the charges and of the academic staff member's duty to notify the president within 10 days after the charges have been delivered or sent whether such hearing is desired," read the procedures.
Quint declined FoxNews.com requests for comment after consulting with his lawyer, Kevin Tillson. Tillson did tell FoxNews.com that the university terminated Quint mid-term without due process and violated Quint's free speech and his rights under the Americans With Disability Act for failure to provide reasonable accommodations in the workplace.
Shibley added that under the due process claim, "he got no hearing, he got no preparation for any kind of statement of the facts and no written finding talking about why he should get the suspension and later why he shouldn't be re-appointed."
But Hennagin said adjunct teachers like Quint don't enjoy the same privileges as tenured professors, and so he has a higher burden of proof in the courtroom.
"If you're on a year-to-year contract, my understanding of the law is that you've got to prove to the court that there were automatic renewals every year," he said.
"There is not a written promise of reappointment for adjuncts, but that it is customary unless something goes wrong," said Shibley.